Golden Jubilee of Sr. St. John
Our Founder Fr. Medaille has written 100 maxims for us to live by. The First maxim reads, "Keep the high ideal of your vocation always in mind and never do anything which contradicts your commitment of a life filled with simplicity, gentleness and holiness."
On September 22nd Sr. St. John celebrated the 50 years journey in living the high ideal of her vocation in the Church through the Congregation of the Sisters of St. Joseph of Annecy. The Visakhapatnam Province joined Sr. St. John in thanking God and all who had brought her to this day – especially her late parents and only beloved brother, her dear ones and friends, all the Sisters of St. Joseph of Annecy, especially her Formators and Community members who had helped to live her fifty years of faithfulness and commitment to the Lord.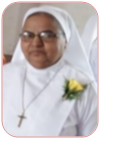 Sr. St. John's life story and missionary journey: Sr. St. John was born on 23rd December, 1946 in Srikakulam. She was the only daughter of Joseph and Mary who were both teachers and she was brought up in a good Christian family where she first learned to love Jesus. She says that her mother was her vocation promoter. She received all her Christian formation from the Sisters of St. Joseph having studied at Palakonda and Sacred Heart High School, Waltair. Intermediate and Degree courses were then taken in St. Joseph's College for Women.
She entered the Novitiate on 31st May, 1966, made her First Profession on 24th July, 1968 and became a permanent member of the Congregation on 17th January, 1974. A glimpse at Sr. St. John's life's journey clearly reveals that she was a born leader, having spent all her time and energy in the Education Ministry of the Congregation as a Headmistress of the following schools: - S. Kota, Kakinada, Parvathipuram, Sacred Heart School, Waltair and Cathedral School, Reading Room. Her leadership acumen was excellent, so much so, that she received State and District level awards and brought laurels to the school. Besides being Headmistress she was also animator of the Community and School Correspondent.
Sr. St. John has a special love for the Congregation; she expresses it by promoting vocations, having encouraged around 20 young women to enter. She is naturally gifted with music and art and is a passionate composer of songs, playlets, dramas and dance dramas. She has a special place in her heart for the poor and the less privileged and her past pupils still love her and keep coming to take advice and blessings from her.
Presently Sister forms part of the Community at Palakonda and is actively involved in the mission - teaching catechism, preparing people for baptism, meeting people and visiting families. Her consolation is that the direct evangelization work she could not do during her younger days- which she so aspired to - she is able to do now.
We appreciate and acknowledge her commitment and dedication for the past fifty beautiful years of religious life. Her deep faith has enabled her to live her 'YES' in a variety of roles which she fulfilled with dedication and responsibility, with zeal and enthusiasm, through both good times and bad. Sister is precious to us and we thank her for her generous service to the family of St. Joseph in different places and to various people in the mission of the Church.
Sisters of St. Joseph of Annecy, Visakhapatnam