VISAKHAPATNAM Province
Hudhud- a Nightmare!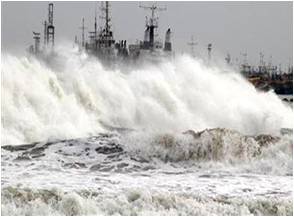 12th October witnessed one of the worst tragedies of the recent times which Vizag desolate and sad. Once known for its natural beauty and charm, Vizag is left bleeding, forlorn and orphaned. The dreams and aspirations of the people are shattered and lie in ruins. The fury of Hudhud, like an invincible demon, trod over the fortunes and properties of the coastal people - especially of Vizagites - sowing venom and leaving them inconsolable, helpless and hopeless.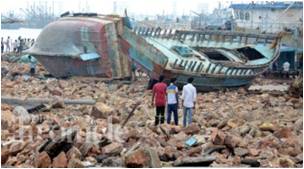 Kailasagiri, the most attractive tourist centre, Rishikonda, the pleasure giving swimming resort, and Ramakrishna Beach, best known for leisure and charm, sensual and elegant, have lost their gleam, sheen and splendorous look. The beautiful and wide roads, byways and lanes of Vizag City, look like places shattered and deserted after a battle. The debris and branches of trees are thrown around the streets causing untold miseries to the people on account of traffic congestion and blocks.
The Harbour, the Shipyard, HPCL, Hindustan Zinc Smelter, BHPV, Navy, Steel Plant, Refinery, Airport, Railway Station and Andhra University Campus have been affected very badly. Destruction of great magnitude and havoc is sown everywhere by the killer Hudhud. Complete vegetation is wiped out from Vizag, a city known for its green look. The plantations of paddy, sugarcanes, mango groves, palm trees, coconut trees, plantain gardens, vegetable plantations all lay waste and gone with the Hurricane. It is indescribable, inconsolable, incongruous and incomprehensible for the farmers whose dreams lay shattered and spoilt.
Visakhapatnam