It is still happening today … in Annecy 2018
Yes, it's still happening today in 2018... This morning while praying with the text of the Gospel for this Sunday, October 28th: "The Blind Man of Jericho", I thought of a meeting I had last week with Mado. Mado a Congolese refugee told me, with great happiness, what had happened to her saying; "I'll tell you about a real miracle!"
In June she went with her parish to the gathering in Geneva for the visit of Pope Francis. She had a good place among the crowd, but alas, it was too far away to talk to Pope Francis. So,she tore a sheet of paper from her notebook and scribbled in pencil a few words saying something like: "Most holy father, I am a Congolese Catholic refugee. Pray for my country and pray for me. Do not forget us" Then she handed this folded piece of paper to a man responsible for the order of service who promised to deliver it to the Pope.
Later at the beginning of September, she received a letter from the Nunciature in Paris. She was surprised and worried at first, then to delight there was also a letter signed by the Pope in reply to her note! The Pope sent her his blessing. Yes, this reply was surely a true miracle that her piece of paper had been read by the Holy Father.
She now treasures this reply of the Pope to her message. If you could only see the joy of this woman, probably similar to that of the blind man of Jericho! We are told that the church is in crisis; however, I believe that the people of God continue to live the values of the Gospel. Let us remain confident in God in whom we trust.
Sr. Marie Ducrot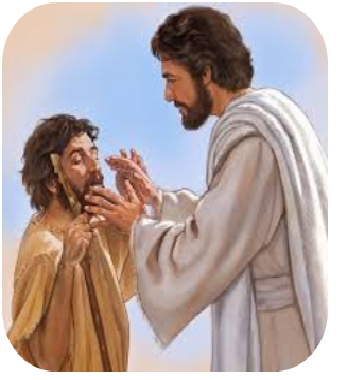 World day for the eradication of poverty, 17 October
A bit of history: This day came about on the initiative of Father Joseph Wresinski with thousands of people from all backgrounds gathered in the Human Rights Square in Paris in 1987. Since then, every year it is celebrated on 17 October.
In 1992, it was officially recognized by the United Nations. Why this day?
To make known the voice of the poor, and to give them a platform. "This is our day, we can express what we experience in our hearts without shame, without embarrassment," said one participant.
To mobilize citizens and public officials: poverty is a violation of fundamental rights. It can be combated. In France, we are invited to understand how anyone can act to combat poverty.

A source of support for the fight against poverty. ATD Fourth World engages with others to give a resonance to this day.

A message that brings many together: October 17, 1987, in front of the human rights gathering, Joseph Wresinski inaugurated the slab where it is written "On 17 October, the defenders of the rights of man and of the citizens of all countries gathered on this Square". They rendered tribute to the victims of hunger, ignorance, violence. They stated their conviction that poverty is not inevitable. They proclaimed their solidarity with those who fight around the world to fight it. Where people are condemned to live in extreme poverty, human rights are violated. It is a sacred duty to unite to enforce human rights and justice" J. Wresinski.
The following took place in Annecy this October 17, 2018
The ATD Fourth World team, of which I am a member, met to prepare this day with the theme: "Unite with the most excluded to build a world where human rights and dignity are universally respected "
On October 17 from 14 h to 18 h, our small ATD team was present as well as the MRAP (movement against racism and for friendship between peoples), at the Square François de Menthon, in Annecy around "The Tree of Rights" a cardboard image that included the trunk of the tree, the branches and separate cut out leaves that were made from colored fabric as part of our promotional exhibition and activity.
This so-called tree gave the people who passed by the opportunity to stop and discuss the theme with us. It also gave the passersby a chance to write on a cut out leaf their own witness comments, a quote, a human right that is not respected or just a wish for a better world and then to put their leaf on our human rights tree.
Here are a few examples: "I want to live like others with my family and my children. Life is better when we're together."
« We're all equal white or black, male or female. I'm having French classes with Greta to learn to read and write".
"I had difficulties to find a job: I was told: we don't take people like you "(a Romanian traveller.)
"We can help others rise out of poverty by helping them find work."
"Young homosexuals are still rejected by their families."
The afternoon was successful in bringing about a greater awareness of human rights and also enabled many passers-by to discuss with us the themes of exclusion, racism and poverty. Sr Marie Ducrot
To supplement this information, here is a snippet from the Dauphiné newspaper, released on October 19, 2018, written by H. Richemoz. "Since 1987, October 17 marks the world day for the eradication of poverty. The theme chosen this year by the United Nations was: "Unite with the most excluded to build a world where human rights and dignity are universally respected. ».
Actions around multi-colored trees
On that Wednesday, in Annecy, the ATD Fourth World movement against racism and the movement to develop friendship between peoples (MRAP) with the organization Emmaus were mobilized to stage a session of awareness and participation with the passers-by. The volunteers from these three associations displayed their different exhibitions and activities to passers-by, around multicolored trees. "Each branch symbolized one of fundamental rights", explained Anne de Calignon, militant of the ATD Fourth World team. The curious passers-by were invited to affix their leaf messages about violated rights or actions to be taken to reduce poverty.
"This tree was also an opportunity to attract passers-by, to open a dialogue with people and to give them the opportunity to hang a message, a quote, a commitment or comment in relation to the theme of the day", says Anne.
"People are aware that poverty exists, but unfortunately it does not attract many people to take action "regrets Marcelle Molliex, MRAP militant.
There were several other volunteers engaging the public in Annecy on the themes of exclusion, poverty or racism, in the hope that they would alert many people to get involved in taking action on these various issues. » H. Richemoz, extracted 19 October 2018 Dauphiné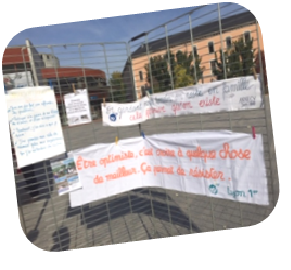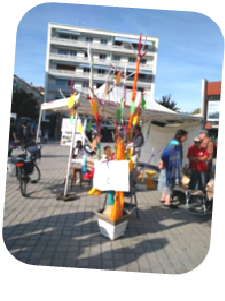 Vocations Weekend
at the Parish of Saint-Maurice of Notre Dame de Valère.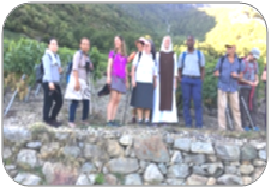 "Jesus said to his disciples: "The harvest is plentiful, but the labourers are few. Therefore, pray the Lord of the harvest to send out workers into his harvest." (Mt. 16.18) To implement this invitation of Jesus, the diocese of Sion organised a walk for vocations open to all. It took place on the 8th and 9th September 2018. We were around 30 participants altogether. There were priests, monks, novices and lay people.
Along the way, the priests stayed with us to support us with their presence. The pilgrimage began with an opening Mass at the Abbey of St-Maurice where 32 priests concelebrated. It was impressive! Then we prayed at the tomb of Saint Maurice before continuing our pilgrimage. The 1st stop, for us walkers was at Verolliez, the place where St Maurice and his companions were martyred.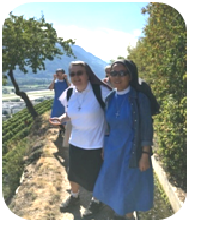 Then we continued along the Rhone River up to Fully. On Saturday night, we had a vigil of prayer with time for adoration and confessions animated by the canons. Then followed a march under the stars with torches to light up our way to the village of Saillon. It was midnight when we finally got to sleep in a gym hall. The next day, we continued along the vineyards on the hillsides of the Rhone valley.
We later picnicked in the parish Hall of Vétroz, a village close to Zion. It was very hot and we were tired from the long walk in the heat. But we continued our pilgrimage journey offering our fatigue and sweat for vocations. What joy we felt when we perceived Notre Dame de Valère on the horizon! On arrival, after a 50 km walk, we finished this pilgrimage with another mass celebrated in the Basilica of Notre Dame de Valère, among many other pilgrims. With much joy and gratitude, we returned home praising God for this opportunity to respond to the call of Jesus to do our part in praying for the vocation needs of His Church today and in the future.
Sr.Anila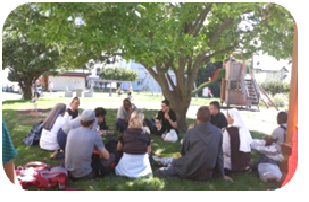 News from the French delegation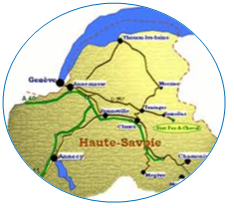 Participation in a "Vocations Camp" in Switzerland.
Every year, in Romand Switzerland, young people are invited to a camp for vocations in order to awaken their interest in the different vocations. This summer, in the month of August, I attended a camp for children from 7 to 11 years. It was in the Swiss mountains, in the region of Monthey. There were twenty-five children and eleven guides, including a priest, a nun and a novice of the Abbey of St Maurice.
Each day consisted of different inputs and animations. The children were friendly and worked together on the activities proposed, including daily Mass. Everything took place in a good and friendly atmosphere. The Director of the Camp had planned a race for the children on the mountain summit so that they could also watch and experience the beauty of the sunrise. Unfortunately, time did not allow us to realize this dream.
However, we did climb up the mountain during the day which was very challenging for me, but to my joy I succeeded! It was a new kind of experience and victory for me as I am not used to climbing mountains! From the heights of Mount Valerette (altitude 2058 m) we sang our hymns of praise to God for the magnificent beauty of His creation. Altogether it was an amazing learning experience for me.
Sister Anita