Sr. Mary James – Johanna Mary Cleary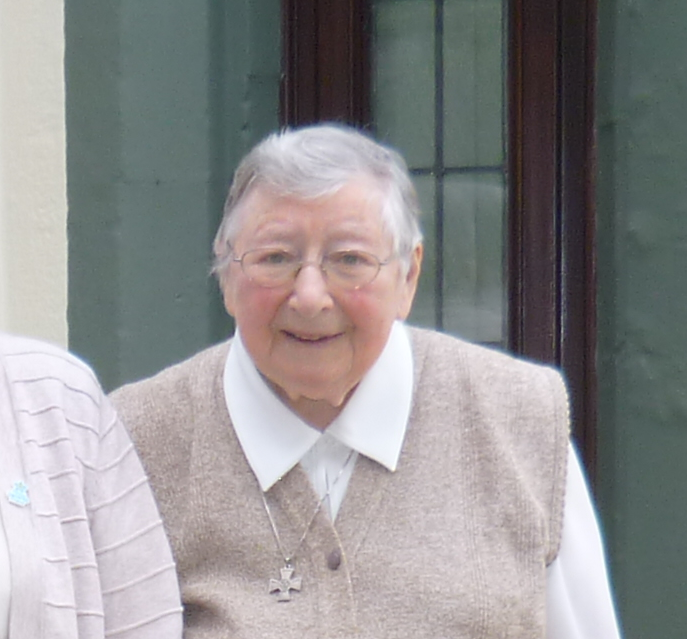 Sister Mary James Cleary was born on the 22nd July 1931, in a little cottage in the parish of Butlerstown, Co. Waterford, Ireland. She was the youngest child of Michael and Margaret (nee Power) Cleary and had three older sisters Mary, Kate and Rita who predeceased Sr. Mary James in the order in which they were born. All lived to around 90 years of age!
Johanna was baptised on the feast of St. Anne in the small parish Church which was nearby. The family attended this Church and she and her sisters went to the local village school. During her primary school years she went for some weeks to the isolation hospital as she had scarlet fever and her education was set back for a while.
Her secondary education was received at the Presentation Convent School in Waterford. The young Cleary sisters enjoyed the freedom of the countryside and all through her life Johanna kept in contact with several friends from her early years.
During her childhood Johanna was well acquainted with the Sisters of St. Joseph as her mother's sister was Mother Walburga. The family came to Llantarnam Abbey for visits and her cousin Sr. Sebastian also became a Sister of St. Joseph. She entered the convent on 7th September 1951 and did not go home again until her father's funeral in 1972. Her novitiate began on 4th August 1952 when she received the name Sr. Mary James. Throughout her life she nurtured a devotion to St. James of Compostella and had the joy of a pilgrimage to his shrine which was a gift from the school in Ross.
As Mother Walburga was Novice Mistress it was decided that it would be more suitable for Sr. Mary James to go to Annecy to make her novitiate. Learning French was a challenge but she was helped by Sr. Ste. Blandine, also in the novitiate, with whom she formed a life long friendship. They became especially close as Sr. Mary James' sister, Kate, entered with the Cistercians in Glencairn, Co. Waterford and Sr. Ste. Blandine's sister Mere Marie Hortense was a Cistercian at l'abbaye de la Fille- Dieu in Romont, Switzerland.
Sr. Mary James made her First Profession on 6th August 1953 and her Final Profession on 6th August 1956. After teacher training at Coloma College, she went to Ross on Wye, Herefordshire, to teach at the Convent school. Her favourite subjects were Maths, Geography and English. As Sr. Teresa Anthony remarked, 'no child left school without knowing their maths.' Having spent 10 years as a class teacher, she was appointed as Headmistress while still maintaining her responsibilities in the classroom. She was delighted that during that time the Convent school became St. Joseph's Primary School and was part of the state system – a tribute to the hard work of the Sisters and staff.
While still in Ross Sr. Mary James became a Provincial Councillor and in 1986 she was appointed Provincial of the English Province and served two terms in office. Having completed 12 years as Provincial she then undertook two terms in office as Provincial Bursar.
In 2009 she finally retired from the service of Province administration and joined Sr. Teresa Carmel and Sr. Susan in North Lodge, a small property at the entrance to Llantarnam Abbey. Here she served two terms as local superior. She enjoyed participating in the life of the local parish and attended as many events as she could.
Her family were very important to her and she cherished the opportunities she had to visit her two sisters in Waterford and her sister and her family who lived in West Sussex. She was pleased to be able to go to Ireland for Mary's funeral when she died on 31st January 2014. Sr. Kate O.C.S.O. died 5 years later on 31st January 2019. The funeral took place at Glencairn Abbey. This was Sr. Mary James' last visit to Ireland. Her other sister, Rita, died in West Sussex in January 2020 and Sister attended this funeral on 31st January 2020.
Sr. Mary James had a long standing heart condition which brought increasing bouts of ill health. She became seriously unwell on the 1st February and after treatment, moved to St. Joseph's Wing at Llantarnam Abbey. She settled well in to her ground floor room from where she could easily walk to the chapel. This was a great asset during the restrictions set in place during the Covid-19 Pandemic as Sisters could converse with her through the window.
In September Sr. Mary James had an acute episode of shortness of breath and went to Neville Hall Hospital, Abergavenny. She was not expected to recover. To the surprise of the staff in the hospital, ill as she was, she requested to return to the Abbey. She went back to her original room where she slowly improved in health. Her mobility needs necessitated a change to an upstairs room and here she regained more quality of life, enjoying seeing daily Mass and Evening prayer live streamed from the Chapel. She continued to pray all the decades of the Rosary each day along with the Divine Mercy devotions. She enjoyed four weeks of good quality life and on the morning of 11th November had followed the special Remembrance Day Anniversary Service from Westminster Abbey on T.V. It came as a shock to all when she suddenly became very unwell as she was settling for the night. Paramedics attended her but she had already died.
A special Evening Prayer to celebrate the life of Sr. Mary James was held at the Abbey Chapel on 17th November and a Requiem Mass was celebrated the next day by Fr. Peter McLaren. Due to Covid -19 restrictions the family were only allowed to attend the burial and graveside service which was conducted by Canon John Griffiths, the Parish Priest of Cwmbran. Sr. Mary James was buried with Sr. Urban, a longstanding friend from her days in Ross-on Wye.
During her lifetime Sr. Mary James had written a poem which was recited at the funeral:
Life's Journey
From the womb
To the tomb
Life is a journey
Everyone has to tread.
For some it is short
But nonetheless blessed.
As they answer the call of God.
For many the mystery
Is quite unclear
As the months and years
Pass by.
Darkness invades
Pain and anguish ensue
The turmoil is all too great.
But deep at the centre
Is the calm of the spirit
For those who are brave
To search.
O would to my God
The gift to give me
To liberate the spirit within
That free from life's cares
And aware of his grace
I may step into line
With Him.
All her life Sr. Mary James sought to be in step with God. She had spent 54 years in her commitment to teaching and in Province administration. We may be sure that she has been greeted by these words of Christ, 'Come good and faithful servant; enter into the joy of your Lord.' May she rest in peace. Amen