Sr. Maria Angela McGrath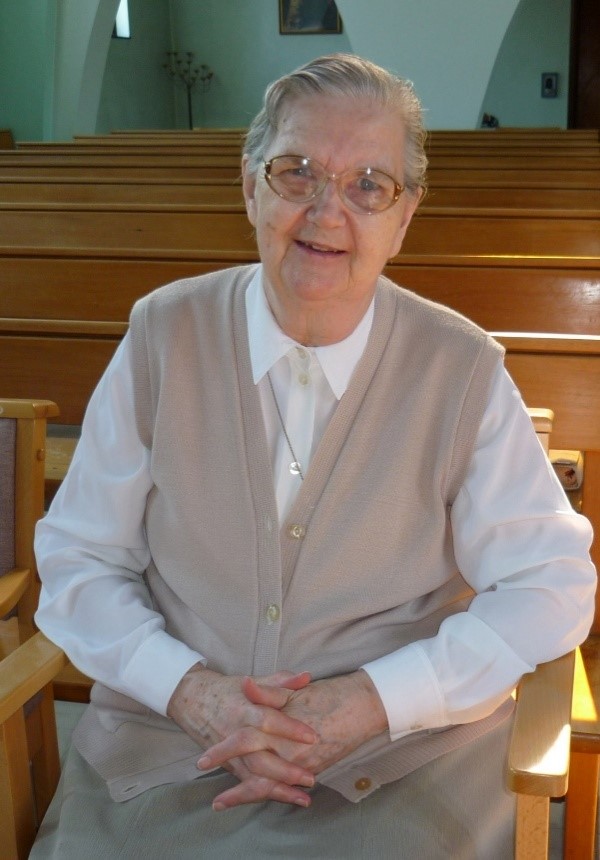 Today we have come together to celebrate the life of someone who is very dear to us all. We come in very different circumstances from any we could have possibly imagined; in a time of "lockdown" and restrictions; when it is not possible or permissible for families and friends to gather in large numbers to mourn the loss of a loved one. Today, on this day of her funeral, it is not possible for us to have a Requiem Mass in our Llantarnam Abbey Chapel, surrounded by Angela's family, friends and Sisters of the Province. It is not possible for us to walk in procession to our cemetery while singing the hymn to Our Blessed Lady and to gather and pray with the priest at her grave. Nevertheless, we will do our very best to celebrate in the best way possible, the life and death of our dear Sr. Maria Angela.
Anne Grace Mary was born in Cardiff on 26th August 1937 - the only daughter and third child of Michael Francis and Elsie May McGrath. She was welcomed into this loving family by her two older brothers, Michael and Bernard. She often recounted events from her happy childhood and would recall how her parents had named their house, "Miberan" after their three children. Her father had a small shop in a suburb of Cardiff called Splott and the family later moved to Rhiwbina. The two boys attended schools run by the De la Salle Brothers while Anne began her education at St. Joseph's Elementary School in Whitchurch Road before transferring to the Convent School in North Road. Sisters of St. Joseph were teaching in both schools.
At a comparatively young age she heard and answered the call to Religious Life -entering the Convent on 8th September 1953 – just two weeks after her sixteenth birthday. Initially there were thirteen in her group but only seven went on to make Profession. They were clothed in Marian Year, 1954, each Novice being given a title of Our Lady as their Religious name, and so Anne became Maria Angela (Mary of the Angels). Members of her group recall how they had to wait until Angela, who was the youngest, had reached her twenty first birthday before being allowed to make their Final Profession in 1958.
In 1955 she had gone to Digby Stuart College in London with her companion from the Novitiate, Sr. Regina (Sr. Mary O'Neill) where she undertook a Domestic Science course which was followed by a further year of training in Seaford College. After a brief spell in Tredegar Park, she returned to the Abbey and began her teaching career in Cwmbran and here she remained for five years. At this time she was described as having "the ability and temperament of a very successful teacher. Her firm discipline yet kindly manner held the attention and interest of children of a very difficult age…. Her interest in games revealed her appreciation of the need to develop in the young a wide all-embracing attitude to life." In 1963 she was transferred to Taunton. She enjoyed teaching and her pupils appreciated her gentle sense of humour and kindness However, God and her superiors, had other plans for her because in 1969 she was asked to become the Mistress of Novices. As she was still only thirty-two years old, special permission had to be obtained in order for her to be able to fulfil this important role and thus she began a Formation for Formators course in Cavendish Square, London.
During a period of more than eleven years she was responsible for the formation of many young Sisters who remember her kindness, generosity and thoughtfulness. One of her former Novices recalled her fond memories of the Novitiate which include the occasions when, watching something special on TV, Sister Angela would produce a chocolate bar as a treat. There were also the summer holidays when Sister drove the blue minibus with everyone singing together over and over again, "O Mary conceived without sin…." in the hope that somehow the sun would miraculously shine before we reached our destination. She would say that as long as there was enough blue to make a cloak for Our Lady, we WOULD have sunshine.
Sister Maria Angela was an amazing seamstress and she had the more able among us, helping to make habits for the other Sisters in the Abbey community. Sister had many skills which she shared with us and many that we are thankful for to this day. Perhaps the richest gift of all was her sharing of her own love of Christ, her prayerfulness, her deep spirituality, and her commitment to serving others.
In 1981, she was transferred to Chatham as local superior and was engaged in parish ministry and the following year saw her on the move again - but this time to West Africa where she was to become one of the founding members of the Gambian Mission, which she served with such generosity and joy over many years. She began the community in Basse. This was a very difficult mission known as the "white man's grave" as it was so remote and so far inland. They often had no electricity and it was quite primitive, there was no post or telephones; and there were no shops, only the little huts selling bits and pieces; the main things they needed were only available when they made the long trek to Banjul. However, Angela was a great homemaker and she made the community a home for the Sisters.
She had such a wonderful relationship with the people, especially the children. They knew she cared and respected them, and that was so obvious in her dealings with them, when she spoke to them you sensed her respect for their dignity as African people and Angela would give them all the time they needed. In Basse she also worked with the women and in the little school.
She later moved to Lamin, Banjul, where she worked in the outlying villages and once more, it was wonderful to see her relationship with these people. As soon as she appeared, they would flock around her, and again she would give them all the time she could. The new house in Lamin became her special work and had all the hallmarks of Angela's giftedness. She was especially proud of the little school and here she was in her element surrounded by the little ones.
A big cross for her was the death of her two friends Sr Mary O'Connell and Sr Irene both on the Senegambian mission. Angela was actually at home in Wales recovering from a back operation, when the news of Irene's death came. She travelled with Sr Monica to the funeral in Tambacounda. Then she returned to Wales just in time for Sr. Mary's funeral. Angela's back was not fully healed, and she suffered greatly on that journey, and ever afterwards she continued to have back problems.
Having spent more than twenty years in her beloved Senegambian Region, Angela returned to the Province for a short time of sabbatical before undertaking a new mission in Bristol, where she was the superior while also working in the parish. She then spent some time in Morden community before coming once more to Llantarnam Abbey where she had begun her journey in Religious life more than fifty years before. Once again, Sister Maria Angela showed her great acceptance of God's will. She brought to the community her gentle good humour, kindness and positive attitude to life.
Her family were always an extremely important part of her life and as Novices, we had the pleasure of meeting her mother, Elsie who sometimes came to visit. Angela was close to her brothers, sisters -in-law and their families and would often talk about her nephews and niece, of whom she was very proud. Losing Michael and Bernard at relatively young ages was a great cross but she was consoled by the fact that Paul, Joanne, Dennis, Chris, Stephen, Mark, Peter and Robert and their families maintained close and loving contact with her. Her childhood companion and lifelong friend, Celia was a wonderful comfort and support throughout her life and continued to visit her, here at Llantarnam Abbey even when Angela, who by this time was in St. Joseph's Wing, was not able to communicate very well and we know that her visits were very much appreciated.
In the last years of her life Angela was surrounded by the love of the Sisters and the staff of St. Joseph's Wing who cared for her with such sensitivity and gentleness. It was evident that she was reassured by the calm and kindly way that they looked after her, and they too, even though many had not known her as she had been before, could sense that love, interest and concern for all, that had been the hallmark of her life.
Sr. Maria Angela you meant so much to all of us in so many different ways and we each have very special memories to treasure. You have enriched our lives with your presence and we have learned much from your example of love and service. We pray that you are now enjoying the place which has been prepared for you in heaven and we ask that you continue to remember us as we will never forget you. May the Angels lead you into Paradise and may you rest in peace, Amen.