Goodbye to Father André Arnet
Cross-Fry, August 29, 2021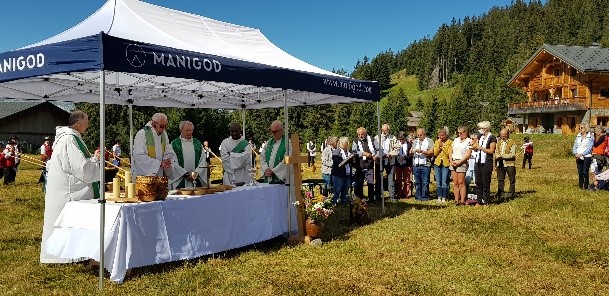 Every two years, in the Valley of the Aravis, a festive mass is celebrated in the open air with the whole Parish of St Pierre Favre. This year, the Eucharist was celebrated at the time of the music festival and it took place at the Croix-Fry, where a large number of musicians: 33 Alpine horns, 5 accordionists, ten harmonica players and a violinist were present.
There was a beautiful beginning to the celebration with the soothing and prayerful music of the horns of the Alps. The choir of the Valley sang the hymns at the Mass.
During the universal prayer and after communion, a thanksgiving prayer was addressed said for the work of Fr André Arnet. Thanksgiving was given for:
the youth camps conducted in the Valley and the exchanges with Burkina Faso.
the work he did and for his fraternal relationship.
He was given a gift and good wishes for a happy retirement to Cluses.
At the end of the Eucharist, we enjoyed a magnificent concert given by the musicians. It was followed by a meal shared with the EAP, the Religious and the organisers.
The organist of the choir, also in charge of the hotel located near the car park, offered free coffee to the participants at the end of the shared meal.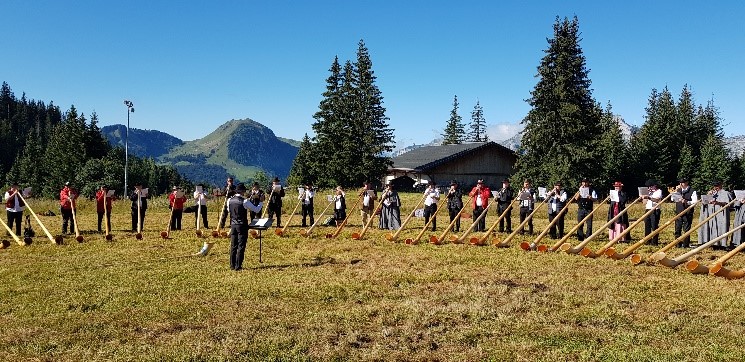 The community of Thônes