ST. JOSEPH'S COLLEGE FOR WOMEN (A),
VISAKHAPATNAM, ANDHRA PRADESH, INDIA
GRATITUDE IS THE FAIREST BLOSSOM WHICH SPRINGS FROM THE SOUL

Every celebration is an experience; the external fades away but the memory lingers and echoes in the very depths of our hearts. We are aware that

jubilees are milestones on the journey of life and reminders of God's continued fidelity and love.
The 2nd July 2018 was the memorable day when we recalled, with gratitude and joy, the path which the St. Joseph's College for Women (A) has travelled in the past 60 years in the city of Visakhapatnam. We thank the Almighty for accompanying the institute in marvellous ways, all through these years and keeping it safe and productive in His vineyard. We have experienced the hand of God in joys and sorrows, in good times and in hard times but the college has served the young women in the best way possible. With the help of dedicated staff, the charism of our Congregation has been kept alive.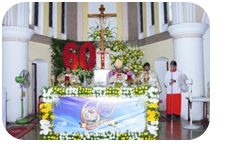 The solemn Mass for the Diamond Jubilee was celebrated at St. Joseph's Parish Church, Waltair. The main celebrant was His Grace Most Rev. Dr. Mallavarapu Prakash, the Archbishop of Visakhapatnam. His sermon was inspirational. He spoke of dedication, motivation and also the care which the staff take in moulding and guiding the young women to become good citizens of our country according to the mission of Christ. Thirty five priests, together with many Religious, friends, well-wishers, benefactors, staff and students joined in the Eucharistic celebration which was led very prayerfully by our staff and students.
Afterwards we enjoyed a delicious meal in the midst of the glittering lights of the college building and each person present received a gift. We thank Almighty God for making use of us so meaningfully and beautifully in allowing us to reach out to the young women of today's world Praised be Jesus Christ.