Pre- Novices' Village Exposure
"Go therefore and make disciples of all the nations, baptizing them in the name of the Father and the Son and the Holy Spirit, teaching them to observe all that I commanded you; and lo, I am with you always, even to the end of the age" (Matthew 28:19-20).
Parish: Yanam Parish Priest: Rev.Fr.Lukose Kallakat Assistant Priest: Fr. Ashok
Villages visited: Injuram, Kajulur, Namavanipalem, Kolanka, Menjeru, Balanthram,Cheduvada, Kapulapalem and Georgepeta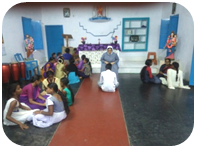 We, the Pre-Novices of Visakhapatnam Province, together with Sr. Sujatha, went to Yanam Parish on 14th August for Catechetical work experience for 15 days. We received a warm welcome from the Parish Priest and from the Catholic families in the villages. Every day we went to different places, preaching the word of God, catechizing people and praying with the families. Our meals were provided by the Catholic families. The village surroundings were so beautiful that we were filled with admiration for God's wonderful creation.
We divided ourselves into small groups in order to make work more effective and faster. We visited families and prepared them for the sacraments. It was a great experience to learn and teach people about God, our faith and the teachings of the Church. This in turn increased our zeal and love for God. The people were ignorant about God and they were thirsting to learn. In the daytime we visited families and in the evenings we taught catechism to the children and adults. The children were attracted through the action songs, hymns and activities and sometimes they took a holiday and stayed the whole day with us.
While we were doing our little mission, we found inner joy, peace and happiness as we felt that we were imitating Jesus and his Disciples. We visited 650 families and shared their joys, sorrows, and their faith experiences and this taught us many lessons. Their simple faith and complete trust in the providence of God was wonderful to experience. Pre- Novices Visakhapatnam