News from India

Kerala flood
"We can do no great things, only small things with great love" Mother Teresa
As Mary our Mother went in haste to extend her moral support and helping hand to Elizabeth her cousin, we the Sisters of St. Joseph's Convent Peratta and Kunderi "went forth in haste" to offer our consoling presence and little affordable provisions to the families of our Sisters who had suffered great loss during the flooding.
Sr. Gracy, Sr. Padma and Sr. Julie on behalf of all the Sisters in the communities and in the name of our Province, together with Mr. Justin Pottakulam, started out on our journey at midnight on August 23rd in his 'Bolero'. The day before, we had purchased fundamental sanitary, grocery and cloth items and packed them into 25 kits. Each kit consisted of the following: bathing and washing soaps, washing powder, Dettol, Harpik , sanitary napkins , Naphthalene balls , oil , scrubbers, and dish soaps, tea powder, sugar , cooking oil, bath towels , nightdresses, bed sheets, underskirts, under linen, lungies and a few clothes for children.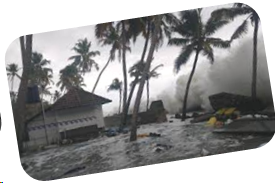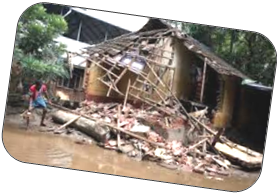 On August 24th we first visited Sr. Leena's house at Kandashangadavu and spent a few minutes with the family members. From there we arrived at Sr. Shmina Paul's house at Kallur in Mala in Trissur District. We found that the house had been partially cleaned with the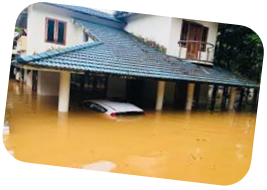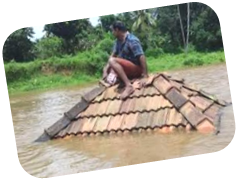 help of their family members and relatives. They were still at work removing all the heaped up filth, waste and mud from the surroundings. The place was stinking, the house was completely empty of things and the well was practically unfit for use. We spent some time with her parents, brother and other family members listening to their traumatic experiences and their unanimous and brave efforts to fight this adverse situation in order to get back to their normal lives. We offered them a few kits, had lunch in her uncle's house and then headed towards Paravoor to Sr. Rosilys' and Sr. Vincy's house.
It was only on August 24th that the water level subsided completely in that area and people started returning from the relief camps to see their dilapidated houses. On the third day Sr. Rosily's and Sr. Vincy's family members were moved from the camp to Aththani in Angamaly, their elder sister's house. The condition of their house was very pathetic –It was completely dirty; all the household things were destroyed and soaked in water; family members were in shock and their hearts broken. We joined with the workers who came from Visakhapatnam College in cleaning and clearing up the house.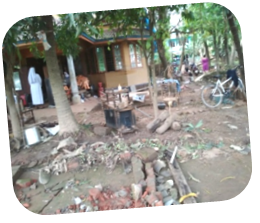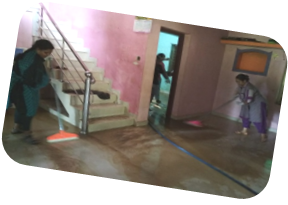 In the two cases above the family members had lost all their life time's hard work and achievements in the devastating furious floods of Kerala. We offered them a few kits and
From there we proceeded to Naduvattam. Since it was already very late, that night we stayed in Sr. Lilly's house at Manjapra where we were very lovingly and hospitably welcomed. The following day on August 25th after Holy Mass and breakfast we went to the Community in Naduvattam. Sisters had cleaned up the house with the help the parishioners and had returned to the convent. They were cleaning the school building as we reached there. They were glad on seeing us; we spent time with them enquiring about what had happened to them, listened to their experiences and offering the things that we had taken for them. We also handed over a few kits to give to the deserving families in the neighborhood since many of them had not yet returned from the camps. We had lunch and tea there.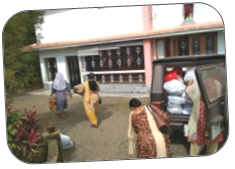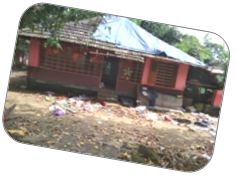 During the course of the day in the morning hours we visited the affected families of Sr. George Mary and Sr. Jessy Cherian at Kodanad and Malayatoor. Sr. George Mary's brothers' houses were not affected, her elder sister's and niece's houses were. We spent some time with her ailing mother. At Sr. Jessy's sister's house they had had time to move a few things upstairs. They had not lost completely everything and it was the second day that they had been living in the cleaned up house. We spent some time listening to their adventurous efforts of swimming in the filthy flooded waters in order to help and save themselves. We offered our kits and an extra one to give to someone in need, which they received joyfully. In the afternoon hours we visited the families of Sr. Annie, Sr. Juby, and Sr. Archana in Naduvattam. Later in the evening we headed towards Kottayam. On the way we were informed that the water levels had not subsided in Alappuzha District therefore we stayed the night in the OCD Ashram in Moovatupuzha. The following morning we had Mass and breakfast there. That morning we also heard that there was political unrest in Kannur due to the murder of CPM members and that there was a possibility of a strike, so we hurried back to our communities.
We are grateful to Sr. Vianney and her team for allowing us to undertake this journey. It was indeed an event which we will always remember as we witnessed the furious floods which had never been seen before and also the pathetic conditions of the numerous people who were absolutely grief stricken. It has made us more sensitive and compassionate towards the suffering brothers and sisters of our State. We were glad that we were able to help in some small way.
THANK YOU
YOU CAN MAKE A DIFFERENCE.