Sister Tessy
"My soul glorifies the Lord"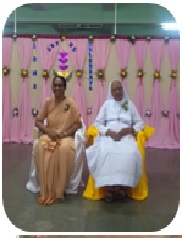 Yes, my soul glorifies the Lord for the countless blessings I have received during these past years of my religious life. I write these few lines with a heart full of gratitude to God for His steadfast love and faithfulness during the 28 years of my life in the Congregation of the Sisters of St. joseph of Annecy. It was a time of recommitting my love to the Lord who called me and made me His very own. I also thank Sr. Linette and the team for their thoughtfulness, love and care. My jubilee celebration during the Province day took me by surprise as I had been in Africa for my actual anniversary, three years ago, and could not celebrate it with my companions.
I was privileged to celebrate with the diamond jubilarian, Sr. Amelia. The arrangements made and the love the sisters showered upon me on this special occasion left me speechless. Since it was the Province day many sisters from far and near were present. The celebrations began with the meaningful and beautiful Eucharistic presided over by Fr. Richard Vaz SVD. While praying for us he said that jubilee is a time to reflect on the grace of God in our life. It was truly a time of counting the graces of God in my life and being thankful for His love and faithfulness to me.
Afterwards we cut the cake to mark the solemnity of the day. All the candidates, novices, sisters and friends joined us for the delicious agape. It was not just the wonderful meal but meeting many sisters and restoring the friendship which touched my heart. Everyone had a kind and appreciating word and warmly welcomed me back to the Province. After the meal the sisters and the candidates entertained us with cultural programme and felicitated us. I was very pleased and happy with everything that happened. My joy was beyond words as Sr. Donisia from Sene-Gambia was able to join us for the celebration. Her presence left me with nostalgia for my years spent in Africa. We danced and sang together - adding colour to the celebration.
It was indeed God's plan and design for me to be part of His vineyard of love. My soul glorifies the Lord who called me to be His very own and showered upon me countless blessings and love.
Sr. Tessy (Bhubaneswar Province)