The International Centre Le Puy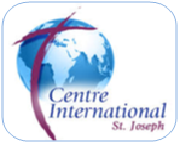 This year, several of our Sisters have participated in sessions at the International Centre, Le Puy. Sisters Lucy Joseph, Bhubaneswar, Maria Rani, Visakhapatnam, and Michaella, Senegal, attended the Cultural Diversity programme which took place in May. This was the first of the five specially designed programmes for Formators and young professed Sisters which will take place over two years. It was attended by twenty five Sisters of St. Joseph who are involved in the formation of "Junior Sisters". Sisters Janet Gagnon, SSJ Lyon and Gloria Phillip, SSJ Argentina were the course directors. Members of the Avila University staff attended some sessions and the presence of several translators enabled the participants to share and to work together effectively.
Srs Nirmala Simon, Bhubaneswar, Sujatha, Visakhapatnam, and Elisabeth, Senegal, took part in the second ten day session in October. The participants, on this occasion, have responsibility for Candidates or pre Novices. In May 2017 it will be the turn of the Novice directors and the final 2 sessions will be for Sisters who have not long been finally professed.
The aim of the 5 programmes is to facilitate a better understanding of nationalities and cultures within Congregations, provinces, regions, communities and with those with whom we live and work. They are designed to "Train a trainer" ie those who participate are expected to give the programme to other people. At LAC level in India, the Sisters who took part in May 2016 are collaborating to organise sessions in 2017 at different venues. Those who have participated in the first two sessions have found the experience enhancing and they have enjoyed the opportunity of meeting different Sisters of St. Joseph from all over the world.
In October, Sister Marie Odile Golliet, Province of France, and Sr. Bridget Pritchard, English Province, attended a programme entitled, "The Lace is not yet finished." The course director was Sr. Jane De Lisle CSJ and there were fifteen participants. This was also a "Train a trainer" programme and participants came from many countries. Once again the translators provided the necessary help and support and language was not a barrier to forming new friendships. Over the course of five days the Sisters were able to be exposed, in different ways, to the original grace experienced by the first "women of St. Joseph" and discover the same grace at work today. They returned to Annecy, full of renewed enthusiasm and it is hoped that they will be able to use the resource material which they were given, to share their experience with others. More information regarding courses at the International Centre, Le Puy, can be found on their website: www.centreinternationalssj.org/ If you click on the latest newsletter you will see photographs of the Sisters who participated in the first Cultural Diversity Programme.