THE INAUGURATION
OF PRATHYASHA PALLIATIVE HOLISTIC CARE CENTRE
LOW TECH AND HIGH TOUCH
Come to me, all you that are weary and are carrying heavy burdens and I will give you rest. (Mt.11:28)
We the Sisters of St. Joseph of Annecy, Khammam Community have taken up the new project named "Prathyasha Holistic Palliative Care Centre" which is supported by CHAI (The Catholic Health Association of India.) "Prathyasha" means "ray of hope." It has the capacity for ten beds. We have appointed a doctor specially trained in palliative care, along with an administrator, Sr. Thomasina and three other staff members who are nurses and a counsellor.
The main aim of our palliative care is to improve the quality of life of patients with life limiting illnesses like advanced cancer, advanced AIDS, lung, heart and kidney diseases. We do this by treating pain and other symptoms and by providing psycho-social and spiritual support to patients and their family members.
Palliative care is:
Patient centered rather than disease focused; we make sure that the patient is comfortable by relieving the pain, administering the medications on time -even though we know that the disease cannot be cured. We try to help the patient to accept death.
Building t relationships between the patients and the care givers; we are mostly concerned with healing rather than curing; healing is about right relationship with self, others, the environment and God. The patients cannot die cured but they can die healed. Our goal is to add life to their days, not days to their life.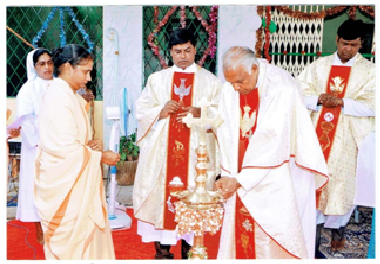 We also facilitate, train and technically support the family members for home based care. This is all about palliative care. We are doing our best to carry out our mission with zeal and enthusiasm to bring forth Jesus' healing and compassionate love to who ever comes to our Centre.