REPORT OF THE LAC LEVEL SEMINAR FOR TEMPORARY PROFESSED
SISTERS FROM 13th - 16th JANUARY, 2016
NEEMKHEDA
"Look I am doing a new thing, now it springs forth (Is.19)
Each of us experienced something new during our four day meeting.
We, the Sisters in Temporary Profession reached Neemkheda with great expectations and excitement to meet our counterparts coming from different States. 13th January 2016 was really a day of rejoicing and gladness as 47 of us from 3 Congregations (Lyon, Annecy and Chambery) along with our Directress and 2 resource persons, assembled in a well arranged hall.
Sr. Ophelia, Provincial Councillor of Nirmala Province warmly welcomed each of us on behalf of Sr. Augusta, Provincial Superior who could not be present. Then our two "resource persons" – Sr. Flavia, csj and Fr. Sunil Opraem - were introduced and welcomed with beautiful bouquets of flowers.
The sessions commenced with a prayer inviting us to be open to the movements of the Spirit and asking for His guidance. Fr. Sunil began with the topic of "Consecrated Life". He stressed the aim of the year of Consecrated Life:
Look to the Past with gratitude by repenting of our sins and being grateful for all the blessings of the past

Live the Present with passion by –
- our 'yes' to Jesus and 'no' to the world
- becoming experts in bringing unity in this divided world
- constant reviewing our lives, our fidelity towards the mission entrusted to us and to our vows.
Embrace the Future with hope by –
- preparing oneself for the mission
- being watchful and alert
- hoping in God and surrendering in prayer
Fr. Sunil also emphasized how a religious could be faithful to Jesus, her spouse, by living the Evangelical Councils of Poverty, Chastity and Obedience which he explained in a nut shell that could be easily remembered forever: The Vow of Poverty -"open hands" means complete surrender to the Lord; Chastity - "open heart" - love for neighbour and Obedience - "open mind" seeking God's will always through authority willingly. He explained each of these vows with practical examples in order to drive home to us the seriousness of the commitment that we make to the Lord. He gave us some questions and divided us into groups for discussion. After 45 minutes we had a general session and reporting. The three vows became very meaningful to us.
Sr. Flavia set our hearts on fire by her sharing on the Spirit and Spirituality of the Sisters of St. Joseph. She explained to us the four primitive texts which are the "flesh and blood" of our Little Design. Her sessions were based on the "Relevance of our Charism and Spirituality in this fractured world. She enlightened us with a new understanding of self-emptying. To empty oneself one needs to have self-knowledge and develop one's abilities and talents for service.
Fr. Medaille's deep conviction of the "Great design of God" led him to conceive with God's grace, the "Little Design" centred on love, for the fulfillment of which he placed before us the three great mysteries –
The Incarnation

The Trinity and

The Eucharist
Sr Flavia stressed how we, as Sisters of St. Joseph, need to be more relational, just like our Founder Fr. Medaille who was a Mystic of Relationship. He developed that deep relationship with the Beloved in the Eucharist which helped him to guide the first group of six women. So also we are called to be and to become women of communion and service since the essential quality of a Sister of St. Joseph is to build up relationships -relationship with God and neighbour. We are called to be mystics of relationships who contemplate the Eucharist and are able to hear the cry of the poor around us. Sister also explained the following and gave examples of how to make our Charism more relevant in this fractured world:
v 'Inclusion in diversity'
v Multi culturality - a challenge for us today
v Sacrament of encounter
v Living the Dynamism of Reconciliation and Unity – "Walking together again"
v Still point of our vocation
v Overcoming our dragons
v Restoration Ministry
v Space exploration
Sr. Flavia insisted that this being the year of Consecrated Life and the Jubilee Year of Mercy we, as consecrated women, are called to be prophetic and persons of dynamic presence of reconciliation and unity. For that we need to be fully alive for the mission of Christ; to be sacraments of encounter and healers in this fractured world; by listening, not just hearing, and being listened to, with respect, understanding, dignity. We need to practise the three fold hospitality and prayer in order to be bridge builders who bring back the alienated. She said we are impelled to let go of our settled ways of thinking, be open and to listen to the cries of the broken people at the peripheries and respond to them This will help us to live our commitment to God fully and whole heartedly. She said that the purpose of our service should be to stir up love wherever we are, and to revive the spirit of the Christians of the early Church. Fr. Medaille describes this love as cordial Charity like that of St. Joseph. This love stimulates life in me and others. We are called to live this cordial charity first in our communities and then outside.
We need to make choices – every choice we make is a risk. In today's fast changing world we are called to cross the boundaries of otherness and to be joyful.
Each morning Fr. Sunil and Sr. Flavia helped us to revise the lessons taught by them. It was a great help for us to recapture the important points and make them part of our lives.
The relevant prayer sheets were given the previous evening for the next day for us to reflect, and every morning we met in our seven groups to share and enrich one another.
At night we watched two inspirational movies which also taught us many lessons such as prayer, discernment, happy community living, determination, hard work, challenges to face difficulties of everyday, to stand for the values of Christ, commitment to mission etc.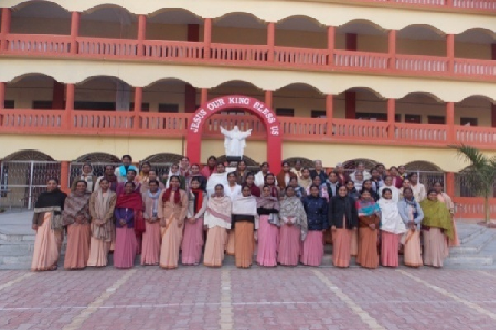 On the third day we had a recreation together during which the four work grous very creatively brought out all that we had learned during the sessions in the form of Kawali, role play, drama and songs. We invited the Sisters in the community too. This, we felt was very helpful to help us to remember most of the points and put them into practice when we got back to our communities.
On the whole, this four day seminar broadened our knowledge and understanding of our three vows and how to lead a happy religious life. It helped us to deepen our love for our Founder, his spirituality and charism - which are very relevant for us today. It helped us to realise how we could be a dynamic presence of reconciliation and unity. It was indeed an enriching experience for all of us.
Before concluding the session we were given a few questions to help us to evaluate our days together - after which we had a very meaningful concluding prayer service which encouraged us to live our commitment to the full in our communities and ministries. We were sent out with a powerful message to make a difference in the world.
We extend our heartfelt thanks to all our Provincials and their Teams for arranging this wonderful sessions and providing us an opportunity to intermingle with our Sisters at LAC level. This was a special time of grace that stirred us to renew our enthusiasm and commitment. We felt revived and energized. We also thank S. Jessy and her community for making our stay a memorable one.