News from the English Province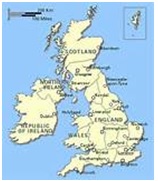 Presentation of the Revised Constitutions
12 July 2015
It was on the feast of St. Augustine, 28 August, 2014 that the revised text of the Constitutions was formally approved by the Holy See. This text then had to be prepared for printing, a longer drawn out process than we had anticipated, extending over several months as we checked each proof which rolled off the press. Finally the text was produced to our satisfaction and the printed copies arrived at Llantarnam Abbey on 11 June 2015 and Sister Pauline officially promulgated this latest edition of the Constitutions on the feast of St. John the Baptist, 24 June, 2015. It was decided to hold the formal presentation for the English Province on Sunday, 12 July.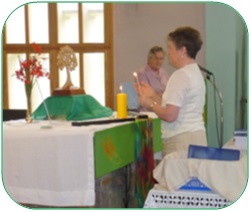 On the appointed day as many Sisters as possible, about sixty, gathered in the Abbey Chapel for the ceremony at 4pm. A display was arranged in the sanctuary featuring icons of the Blessed Trinity and Holy Family, pictures of Father Medaille, Mother St. John and Captain Dewell who brought the Sisters to England. Linking these was a wooden carving of the 'Tree' which Father Medaille saw as the image of the 'Little Design' as it spread throughout the world, to all people and all places. Representing the fourteen communities of the Province were two seven branched candlesticks each containing small candles which were lit during the Service as the community's name was announced. The 'Evening Prayer' opened with the hymn; 'We the Sisters of St. Joseph' and the three psalms were interspersed with short reading from the writings of Fr. Medaille, and the 'Consecration' to the 'Created and Uncreated Trinities'. Before the third psalm we read:
'An understanding of the circumstances in which our basic documents were written will give us a better grasp of their meaning and importance. When we are aware of the originality of the charism of our Congregation, we see more clearly the action of the Holy Spirit as He overturns rules and customs to bring about a renewal of the dynamic quality of religious life in the Church'. (Original Documents: SSJ Chambery)
At this point we reminded ourselves, very briefly, of the 'History of the Constitutions', beginning with Father Medaille's, 'Rules for the Daughters of St. Joseph' in 1646; official approbation by Bishop de Maupas in 1651 and the further ten approbations and decrees which followed, culminating with the present Constitutions of 28 August 2014.
After the Scripture reading, John: 1.17 and James 1:25, the Sisters processed to the sanctuary and a copy of the Constitutions was presented to each one by Sisters Breda and Teresa Anthony.
The prayers of intercession based on Pope Francis', 'Letter to all Consecrated Religious', followed and we concluded with a very joyful singing of the 'Magnificat', joining with Mary in deep gratitude to the Lord for His great goodness to us.
At the end of the service we gathered for tea and in the refectory, feeling happy, relieved and grateful that this day had at last arrived!
Sr. Mary Michael