Apostolic Mission Exposure Programme Pre-Novices
"Go therefore and make disciples of all the nations, baptizing them in the name of the Father and the Son and the Holy Spirit, teaching them to observe all that I commanded you; and lo, I am with you always, even to the end of the age"
Parish : Pachipenta
Parish priest Rev.Fr. Prem Kumar
No. of Catholic families: 300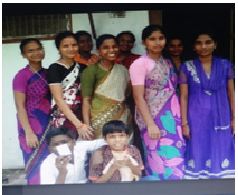 Here we are the Pre - Novices of Visakhapatnam Province, to give you an update of our Apostolic Mission Exposure Programme at Pachipenta a remote village in Salur. We set out for our mission on 19th September.
As we reached the village we received a warm welcome from the Parish Priest and the parishioners. One of the families was generous enough to offer us a small house near the Church for our stay. As each family came forward to offer us our "daily manna", we did not need to waste time in preparing food for ourselves and we could spend our time more profitably with the people. The parish has got seven sub-stations. We were determined to visit all of them. The first thing we did was to divide ourselves into small groups in order to make work more effective and faster. Every morning we would wake up with enthusiasm, say our morning prayers, attend Holy Mass, break our fast and set out in twos to visit the families.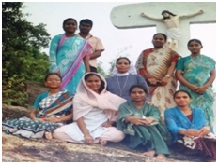 Besides visiting the families and preparing people for the reception of the Sacraments, we took the Survey of the Catholic families. In the evenings we would come back to the Parish, gather the children around us and teach them prayers, devotional songs and conduct games. Pachipenta Parish has got vibrant youth, elders and children. The amazing factor in this particular village is that the youth conduct daily at 2.30am, the Divine Mercy devotion, in which many others join. The people are very devoted and regularly participate in daily Mass, rosary, and adoration as well as being very active in church activities. The members of the Legion of Mary and Divine Mercy prayer group visit the sick in the village on a regular basis.
On 4th October we had to say "Good bye" to the people. It had been a truly great experience for all of us; a challenge to leave our comfort zones, to plunge into the unknown and to experience the God of surprises.
We are grateful to Sr.Vianney who encouraged us to have this experience. We are also indebted to Sr. Dominic and Community for all their help and support.
Sr. Bhagya Mary and Pre-Novices