News from Africa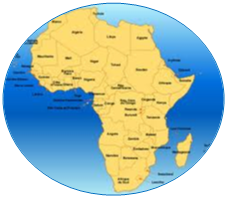 Kedougou: the girls' boarding house
Since 1962, the Sisters of St Joseph have been serving young people in the rural region in and around Kedougou. Thanks to their generous love for ethnic minorities, the work has expanded, and thousands of children have had schooling. Many boys and girls have become professionals, teachers and priests – thanks to the generosity of religious and benefactors.
Girls from the bush villages have been able to board and enjoy good educational conditions. Some have even passed their bac (A'levels), something that would have been impossible from home.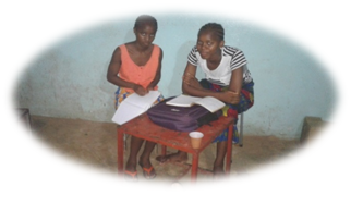 Ten of t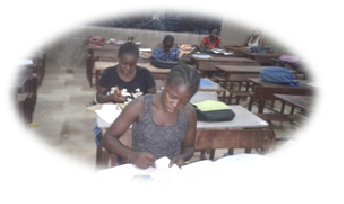 hem have gone on to study at Dakar University.
As well as spending time studying, the boarders learn house-keeping tasks such as cooking, washing and helping with meals on feast days. From time to time they spend their time-off making hibiscus juice with monkey bread with Sr. Sophie.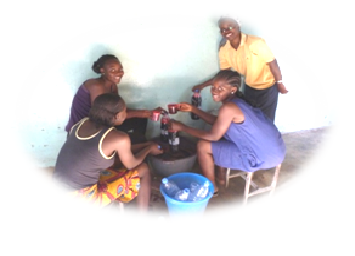 This year, the boarding took in 40 primary and secondary school girls. Three went in for the bac, but sadly only one passed. Another was successful at the intermediate exam for those completing four years of secondary schooling.
Feast day cooking with Sr.sophie Household work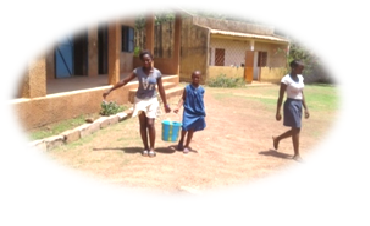 Relaxation: Preparation of Bissap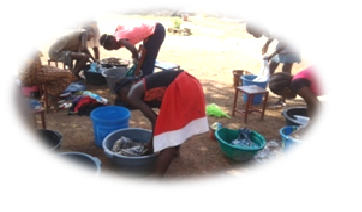 DOSPENSORY AND MOBILE CLINIC: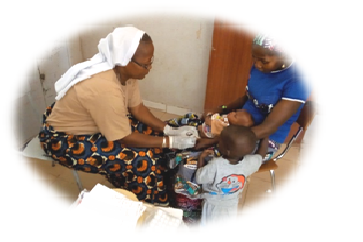 Weighing Children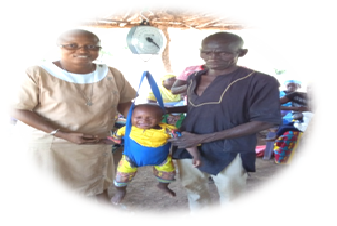 Clinic Vaccination
Helped by a local health worker, Sister Michaella, a qualified nurse is responsible for healthcare in the dispensary and thanks to a 'mobile clinic', the surrounding villages. Here they carry out vaccination programmes, check the health of the children and share their knowledge with the mums.
Caritas provides important support for these activities, but currently Sister Michaella needs a car that can act as an ambulance and cope with the rocky roads leading to outlying villages.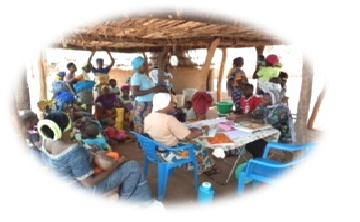 Kédougou Church: ordination of Father Keita
On 7th July 2018, parishioners of St. Joseph's gathered for the joyful celebration of the ordination of Fr Gerard Keita who comes from the village of Bandafassi. He is the second priest of Bedick origin and used to board in Kedougou in the days when the SSJAs looked after the boys.
Kedougou Church
The diaconal ordination celebrated by Bishop Bassène of Kolda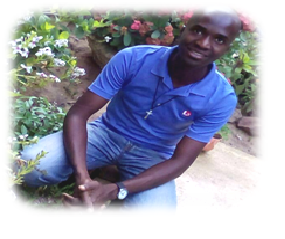 Sr.Jacquelin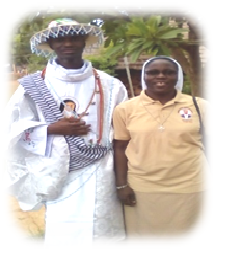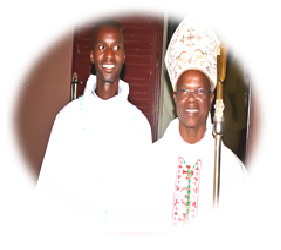 Bishop Bassene of Kolda
The parishes of the diocese had delegated representatives for the event
Gold mining(adapted from an article by FrArmel Duteil CSSp)
This relatively new activity has transformed the face of Kedougou, the most beautiful city in Senegal, bringing insecurity, HIV / AIDS, prostitution and a high cost of living, and luring people away from growing crops in the fields. Kedougou has become the meeting point for several nationalities which have come to try their luck hoping to find a little gold. Returning from the mines one day we saw 2 broken eggs at a crossroads, a sacrifice offered to the ancestors and spirits of the mines in the hope of good fortune and protection. Sadly, many young people in the villages have chosen to pursue gold rather than continue their studies.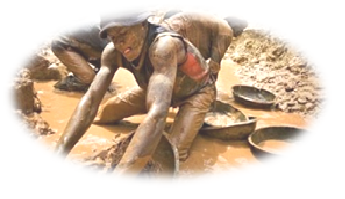 In Senegal, several mining companies exploit gold in an industrial way. But in Bantako, near Kedougou, there is a whole sector of artisanal gold mines. People dig holes up to 25 metres deep in search of gold nuggets. It is exhausting work and the heat and lack of air make it very dangerous. Last week, 2 people died in a landslide. Young people, even children, are used because of their size. Women and girls are paid to bring up the buckets of earth and stones. Most of the nearby trees have been felled so you have to go further afield to look for wood for mine supports and cooking.
People from Mali started this work first because they did it at home. Then the Senegalese got into it, then people from other countries, especially Guinea. Many students left school to look for gold, thinking they would get rich quickly. This was the case for a few, rare lucky ones who came across a vein, but the vast majority have done nothing but spoil their future.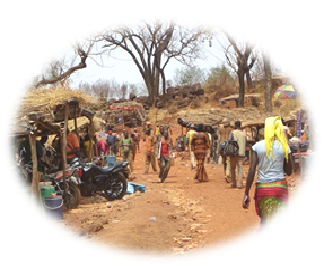 As everywhere, this search for gold has brought enormous problems and suffering: fights, widespread violence, theft, rape, drugs, alcohol and prostitution. Trafficking of women has been organized, particularly from poor villages in Nigeria. Once in Senegal, their papers are confiscated, and the women are forced into prostitution, supposedly to refund thei r trip – but there is no way out for them. Another problem is health: mercury is used to extract the gold from the stone, which is very bad for health, but on the site there is no dispensary, just a small health post for a constantly increasing population currently estimated at 10,000.
There is no mining on Fridays and Mondays. These are the days when the stones are broken to extract the gold. One gram is sold for 20,000 CFA francs. Then there is always the fear of theft. Last week, an armed group came to steal gold. They fired about 20 shots to scare the people, but fortunately nobody was hurt.
Little by little, a whole operational system has been put in place. Local authorities and security forces tax the people. The village chief has imported a machine that sprays the pebbles and washes them to release the gold.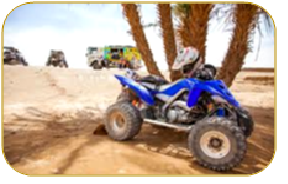 To be allowed to stay, miners now have to pay weekly "pebbles". Some of the gold is smuggled into Mali so brings no benefit to Senegal. However, the Senegalese government is setting up a permit system that allows its own citizens to employ foreigners, while people such as teachers who are salaried are buying small equipment such as buckets, rope and hammers to sell on at a profit.
Last month, a serious fire broke out. The ambassador of Mali came to speak to a large communityof his nationals. He advised them to return to normal living conditions in Mali and asked that children aged 5 to 18 should leave the mines and return to school. But will that change anything?
A group of German volunteers has recently built us a new social centre with four large meeting rooms. We now want to know how it can best serve the needs of the local people. We are thinking about adult literacy and numeracy classes, training for developing small businesses, helping people move on from the gold craze… but no decision will be made without the input of the village chief, the imams and other local leaders. In the meantime, we have built a water pump.
Praised be you, my Lord, for Sister Water
who is very useful and very humble,
precious and chaste.