Sr. Adrian Bufton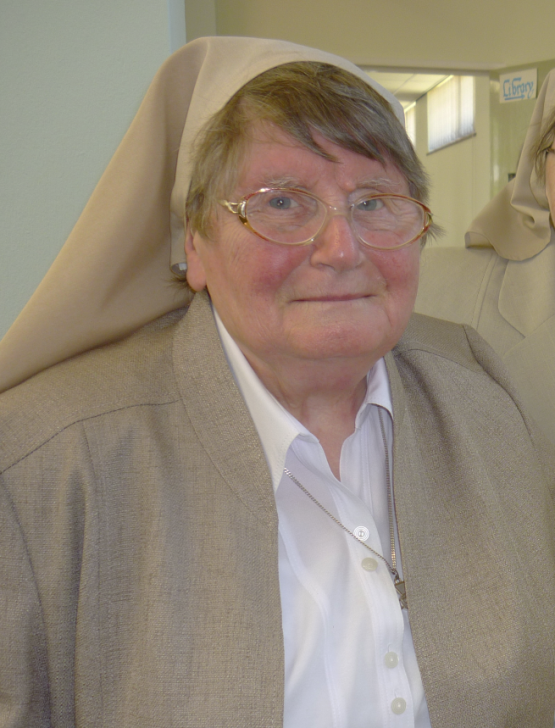 Sr. Adrian, Lillian Muriel Vera Bufton, was born in New House, Llanbister Road, Powys, formerly Radnorshire, on 20th June 1933 to William Cecil and Eleanor Dora. Theirs was to be a large family and, after William's death, Eleanor remarried, and four more children were born – making a total of thirteen. Shortly before Vera's birth, tragedy had struck the family when her sister Dora was accidently killed in a fire at their home. Sr. Adrian often recalled the event and remembered the great sadness the family had experienced.
Radnorshire is an historic county, in east-central Wales, on the English border. It covers an area of mountainous terrain and highlands, including Radnor Forest, with a central valley formed by the River Wye and lies completely within the present county of Powys. Since the Bufton family were involved in agriculture, and due to the nature of her father's job, the family moved regularly within the district.
In the 1950s Vera Bufton decided to leave the Border Country and travel to Cardiff in South Wales, where she found employment and lodgings with a family who had a cake shop and business in Roath. Later she was to move to Canton where she worked in a sweet shop and lived in a "bed-sit" in a house which belonged to a Catholic family named Kearns with whom she became very friendly. It was during her early years in Cardiff that she attended the Minster Road Congregational Church and met her life-long friends, Pat Warren, Pat Thomas, Joan who died a few years ago, and Sheila who was to marry Jack, the brother of Frank Kearns, in whose house Vera was living.
The four friends enjoyed socialising together and decided that they would go on holiday to Austria. However, these were the days before "package holidays" and quick flights, and they had to travel by train from Cardiff to London and then by train and boat to France and onward to Austria by train, which would take a fairly long time. Their plan was to stay overnight in London in Bed and Breakfast accommodation and to leave their main luggage at the railway station where they would collect it the next morning. They had asked their hostess to book a taxi to the station for them on Sunday morning but she had forgotten and so they had to spend time waiting for one to arrive. Consequently, when they reached the "Left Luggage" department, time was short, and the queue was long! They decided that two would wait for the cases while the others, who had the picnic basket, found their seats on the train. Sr. Adrian used to chuckle as she recounted the story of how she and her companion had found themselves travelling without their friends and their luggage and had arrived at their destination twenty-four hours before the others. In the days before mobile phones were invented, this must have been a daunting experience for all concerned. However, photographs of the holiday makers show that it did not dampen their enjoyment and enthusiasm.
Sheila and Vera were by this time, working in Cardiff University as Laboratory Technicians and it was here that she met Sisters Leonie from India and Alice Marie from France, who were students and who sometimes came to the laboratory where Vera was working. It was during these years that she became interested in, and familiar with, the local Catholic Church where, she later recalled, she had found a profound peace when she had been present for Benediction. Always a deep thinker, one can imagine that she did not enter into this journey to Catholicism, without weighing up the consequences, but we know that she did proceed and subsequently she was received into the Catholic Church by Canon Poyner. Very shortly afterwards, she made to momentous decision to become a Sister of St. Joseph, entering the Novitiate at Llantarnam Abbey on the feast of the Immaculate Conception, 8th December 1961.
Sr. Mary Adrian received the habit in 1962 and made First Profession on 7th August 1963 and Final Vows on 8th August 1968. Her companion in initial formation was Sr. Catherine Daly, with whom she was to remain a close friend and with whom she will be buried – the two having made this agreement when they were both "hale and hearty". Apart from short spells of service in the communities in Ross-on-Wye, Tredegar House and Chatham, Sr. Adrian was to remain at the Abbey for the rest of her life. She was a born "home maker" and spent most of her active years working quietly in the kitchen or in the laundry where she inspired many novices or the members of staff with whom she worked throughout that time. People speak of the great welcome she gave them and the attention she gave to those whom she felt might need some "extra care."
Wherever she was missioned, she worked with dedication, quietly and unobtrusively. She paid attention to details and to the little things other people might miss. She did not seek affirmation or praise since she was secure in the knowledge that she was a beloved child of God and this was enough for her. She had her own mind and could resist any pressure to "follow the crowd" - if she felt that it was the wrong thing to do. Sr. Adrian was a deep thinker and was not afraid or shy to speak at Community meetings or Province gatherings and, when she did speak, she always had something valuable to offer.
Whenever Sisters speak about Sr. Adrian, it is with great affection and love because she was such a wonderful example to us all as to how a Sister of St. Joseph should live. She "always spoke well of others and praised the good they did and would conceal in the best way she could, their faults and imperfections." Maxim 11. If she felt that a conversation might turn to gossip, she had a favourite method of changing the subject by saying, "Well, that's the way of it," which meant "That's enough!"
Sr. Adrian lived simply and was satisfied with what was necessary. She loved to spend time in prayer with Our Lord in the Blessed Sacrament and was keen to develop her knowledge of our charism and spirituality and what was happening in the Church and in the wider world. When, in later life, she had more time to watch television, she brought the suffering and anguish which she saw on the News, into her prayer. She was certainly the person to go to, if you had a special intention to pray for, as you knew that she would take it to Our Lord straight away and that He was sure to listen!
Active until practically the end of her life, Sr. Adrian could be found in the Refectory or in St. Bernard's (dining room) filling the salt and pepper cellars, setting the tables or emptying the dishwasher. At meal times she used to like to talk about some of the interesting documentaries or travel programmes she had watched on TV. Sometimes, she would be interrupted, but when the conversation resumed, she knew exactly where she had left off, and would continue with the story. She had a great sense of humour and loved making puns. One of her favourites was to say, after a visit to the chiropodist, that she "had been to the corn exchange!"
Sr. Adrian had enjoyed her visit to Austria as a young woman and had had the privilege of going on pilgrimage to Rome as well as Lourdes. She had special devotion to Our Blessed Lady and was delighted to have had the experience of visiting her shrine at Knock in Ireland, with Sr. Celsus, who was her travelling companion on many occasions.
During her years in Religious Life, Sr. Adrian had been able to stay in contact with her brothers and sisters and their families and some of her nieces and nephews will be present this afternoon when we lay her to rest in our cemetery. She had had the pleasure of spending time with them during short holidays at home and during their visits to Llantarnam Abbey – which she thoroughly enjoyed. When she and Sr. Catherine Daly celebrated their Golden Jubilee in 2013, many of her family and her dear friends were able to celebrate with her – which added to her joy and happiness on the day.
Sr. Adrian had been a valued member of the Abbey Community for so many years and it was only at the beginning of June that she finally acknowledged that she was feeling unwell and was in need of the care of our excellent Staff in St. Joseph's Wing. Our worst fears were confirmed when she had to be admitted to hospital and was told that her condition was terminal. To make matters worse, we were unable to visit her, but luckily her nephew Tony was given permission to see her. The Sisters desperately wanted Sr. Adrian to come back home so that they could say their farewells to one who had meant so much to them. On her last day with us, she seemed to revive a little and become more aware of those around her. Tony and Jane visited in the afternoon and many of the Sisters spent some time with her during the evening but God, with whom she had had such a close and loving relationship throughout her life, called her into Eternal Life shortly after midnight on Thursday 30th July. The one who was so welcoming of others, was surely greeted by Our Blessed Lady, the angels, and saints as they welcomed her soul and led her into Paradise.
Sr. Adrian, we miss you and we ask you to remember us, as we will never forget you. May you rest in peace. Amen