Sr. Anne Gabrielle Groves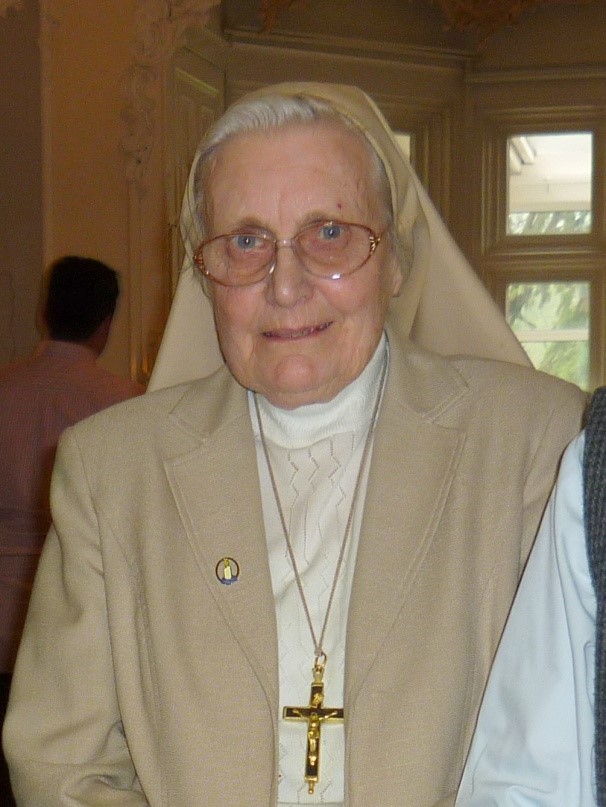 Sr. Anne Gabrielle, Mary Josephine Angela Groves, was born on 4th March 1922 in Devizes in Wiltshire to Charles William and Frances Elizabeth, nee Tucker. Her father was a Lance Sergeant in the Second Battalion of the Wiltshire Regiment when he married Miss "Bee" Tucker in 1912 and their marriage was described by the local newspaper as "a very pretty and interesting military wedding". Both the bride and her mother had been born and brought up in India and the family had only returned to the United Kingdom in 1906.
The young Josephine was welcomed into the world by her older brothers, Ronald, Fabian and Michael and the family would later be completed with the arrival of a sister, Gabrielle and a brother, Christopher. Her maternal grandparents lived next door and Sr. Anne Gabrielle often spoke about her beloved Granny Tucker who, family tradition maintained, was a descendant of the famous Irish poet, Thomas Moore who had also been a composer and musician. This would account for Sr. Anne Gabrielle's great creativity - inherited from both her mother and grandmother.
Her father had been gassed and wounded in the Battle of the Somme and, as a result, was an asthmatic for the rest of his life. When the 1939-45 War broke out, he joined up again, being commissioned in the Dorset Regiment as a captain. Her mother was a very talented teacher who taught generations of children in St. Joseph's School, Devizes where she was very involved in the school plays – using her artistic talents in producing the scenery, and so Granny Tucker was often called upon to look after the children.
Sr. Anne Gabrielle had close ties with the Sisters of St. Joseph and used to boast that they had known her long before she had known them! The young Josephine went as a matter of course to St. Joseph's School, Devizes and often visited the convent - doing various little jobs – which she thoroughly enjoyed. She retained vivid memories of Sisters Evodie, Dominic, Gertrude, Placida and Felix, among others. Later she was to come to Newport as a boarder in the Convent School on Stow Hill.
On 29th January 1941, she entered the Pre Novitiate, proceeding to the Novitiate after six months and making First Profession on 17th August 1942 with her companions Sisters Pauline, Enda and Vincent. Soon afterwards, she began teacher training at La Sainte Union College, Southampton which was evacuated to Cheltenham. Having completed her training in 1944, she was appointed to St. Joseph's Primary School, Maindee, Newport where Sr. St. Louis was the head teacher and Sr. Bonaventure was a member of staff. On 20th August 1945, she made her Final Vows.
With the purchase of Llantarnam Abbey as the new Provincial House in 1946, Sr. Anne Gabrielle was one of the pioneers who transferred to the Abbey and set about cleaning and settling into a building which had been used by the American Airforce during the war. Just a few months later, the United Kingdom was hit by great snowstorms which lasted for many weeks. However, the inclement weather did nothing to stop the Sisters walking across the fields and then into Newport in order to get to their schools. The determination not to let people down was a hallmark of Sister's life and she continued to work with the same drive and enthusiasm until she was in her nineties.
Apart from a short spell of three years when she was appointed to St. Michael's School, Chatham, Sister Anne Gabrielle was to remain at Llantarnam Abbey for the rest of her long life. Her great knowledge of the history of the Abbey and its association with the martyr, St. Davis Lewis, made her a wonderful guide for visitors - many of whom came from as far afield as the USA - some maintaining a friendship with both herself and Sr. Celsus for many years afterwards. At the beginning of 2020, an American priest who was a descendant of the Morgan family, called at the Abbey and celebrated Mass in the chapel. He was delighted to learn that Sister would be well enough to see him and spent a few minutes with her afterwards.
Sr. Anne Gabrielle touched so many lives in a variety of ways and it is heartwarming to see such wonderful tributes being paid to her on social media. Her past pupils from her days at St. Joseph's, Maindee and her twenty years as Head teacher of St. David's Infant School, Pontnewydd, where she served from 1967 - 87, have so many fond memories of her as both a person and as a kind and talented teacher. It was almost impossible to go anywhere in Cwmbran or Newport, without someone recognizing her or asking about her. One former pupil recalls how Sister Anne Gabrielle had been part of her life even before she began school - as Sister used to visit her family. At that time, her mother was unable to speak English very well and Sister's kindness was a wonderful support. Her example as a teacher was inspirational in encouraging others to join the profession and her ability to share her skills enabled her pupils to believe that they could succeed. Another past pupil recalls that her kindness and dedication encouraged her to become a Sister of St. Joseph.
Most people would feel that if they have been teaching for more than forty years, it would be time to retire and put their feet up – but not Sr. Anne Gabrielle! She gave up one career in order to embrace a new one at St. Joseph's Hospital as a member of the Housekeeping Department. This new role gave her plenty of scope to use her talents in administration as well as an opportunity to become more involved in fundraising for St. Anne's Hospice of which she had long been a long-term supporter. Her beautifully decorated Christmas cards which were sold on behalf of the Hospice raised a great deal of money over the years. In 2007, as representatives of St. Anne's Hospice, she had the honour of attending, with Sr. Miriam, a Royal Garden Party at Buckingham Palace. Afterwards they wrote an account of their visit which reflected their excitement of being so close to the Queen and other members of the Royal Family.
Sr. Anne Gabrielle's experience in administration made her invaluable in the Abbey where she was Bursar for many years, as well as being the Assistant Superior for some of that time. Even to the present day, her name still appears on some of the invoices which are received. Because she knew the house so well and was meticulous in labelling and storing resources, it was easy to find various items needed for events throughout the year - whether it be Christmas decorations for the different rooms, or flags and table decorations for national feast days.
It was in community too, that she was able to use her creative talents. Her flower arrangements in the Chapel attracted great praise and her gifts as a calligrapher were very much appreciated by the recipients of the cards which marked significant occasions such as Professions and Jubilees. She was also a musician who played the piano, organ, guitar and recorder, and Sisters of all ages recall her beautiful singing voice which she used to praise God both in the Chapel and in the Parish. However, in spite of being very talented and gifted, Sr. Anne Gabrielle was very self-effacing and perhaps did not realise how much she was loved, appreciated and respected by all who knew her. Only recently, one Sister remarked that if you had been moving furniture with Sr. Anne Gabrielle she would always say: "Mind your hand" and never, "Mind the wall". It was this innate kindness and fidelity to her life as a Sister of St. Joseph which shone through and which attracted so many people whose lives she touched throughout her long life.
She was blessed to have had such a loving and thoughtful family and was "Aunty Joey" to her seven nieces and seven nephews and their children. Several family members have visited her over the years, and she was delighted that some were able to be here when she celebrated her 90th Birthday and the seventieth anniversary of profession which she shared with Sr. Vincent in 2012. The photographs and family history research which they shared with her, brought great pleasure and provided great insights into her early life. The fact that Malcolm, Sue, Sheila and Gillian will be here today to celebrate Sr. Anne Gabrielle's life, is a great blessing for us all.
Each one of us has so many memories of dear Sr. Anne Gabrielle who has been part of our lives for many years. Some will recall the talented teacher, the kind Sister who was loved by parishioners and colleagues, the good companion and friend who worked hard and always did her best – whatever the undertaking. Some will remember her intrepid spirit which allowed her to undertake many pilgrimages – often with her good friend, Sr. Vincent, while already in her eighties. However, all will remember her steadfastness and commitment as a Sister of St. Joseph of Annecy which was ingrained in her and which motivated her to spend long hours with Our Blessed Lord in this Chapel. Almost until the end of her life, Sr. Anne Gabrielle's footsteps could be heard in the tribune at 6.30 each morning. It was Jesus who had called her to the Congregation, who had sustained her throughout her life, and whom she greeted just before midday on Friday 24th July 2020, while surrounded by members of her community and staff of St. Joseph's Wing who had cared for her with such kindness and concern during her latter years.
God bless you, Sr. Anne Gabrielle. May you rest in peace.