Sr. Vijaya Anne Padi
01-07-1952 to 19-11-2020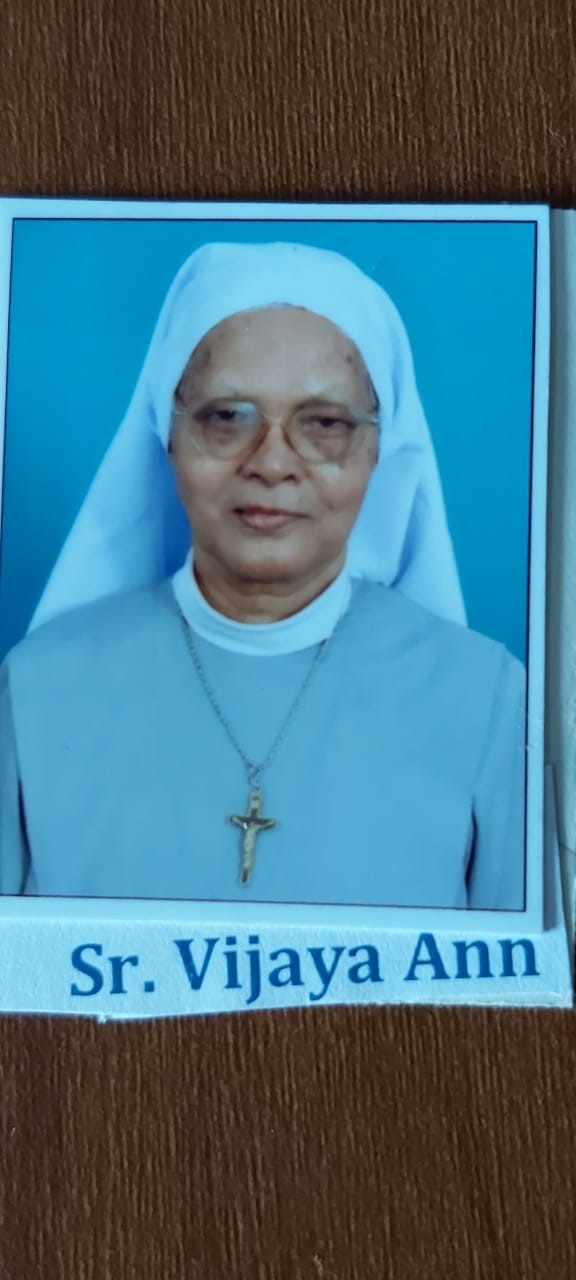 Sr. Vijaya Anne Padi Nee Sarojini Padi aged 68 was born on 1st July 1952 in a Hindu family to late Mr. Appanna Padi and Mrs. Sundaramma Padi at Anguru, Srikakulam Dist. in Andhra Pradesh. She was the eldest of the three children, and was baptized on the 1st of June 1963. She did her schooling in St. Theresa's High School, S. Kota and St. Joseph's High School, Parvathipuram. She completed her Intermediate in Women's College, Kakinada.
The story of her Vocation:
As Sr. Vijaya Anne was doing her 2nd year of Intermediate at Kakinada, she expressed her great desire to join the convent to Sr. Marie Louis and Sr. Austine. She was inspired by the generous service and exemplary life of the sisters at Kakinada, and this made her to fulfill her vision to be a religious in this Congregation.
She entered the novitiate on 21st January 1979 and made her first profession on 1st of January 1982 at Waltair. Soon after her first profession, she was sent to Maryland Community, where she rendered her general services for Five years. She was sent then to Kakinada for a year and in 1986 she was transferred to Waltair Community until 1989.
Sr. Vijaya Anne made her Final Commitment on 1st January 1987. In 1989, she was sent to Eluru Community, and was back to Waltair in 1991 and was engaged in the general services up to 1993. At this time she attended a seminar in Evangelization and a course in Herbal Health care. In 1994 she was appointed, Superior of Salur Community until the year 2000. Sr. Vijaya Anne did her work with great love for Jesus. She was kind, polite, and compassionate.
In the year 2000, she was sent to Manila, (Philippines), to attend a training programme in Evangelization along with Rt. Rev. Bishop Paul Maipan, the Bishop of Khammam Diocese, and she worked in the field of Direct Evangelization with more zeal.
From 2001 she was fully involved in the Diocesan Catechetical Work with full of zeal and great enthusiasm for 10 years. Her main work was to prepare children and adults for Baptism, Confirmation and Rectification of marriage. Many young sisters who accompanied her to the Catechetical work were inspired by her simplicity and unassuming nature. She never felt tired of giving God's love to others. She catechized in number of villages of Visakhapatnam and Srikakulam Diocese while staying at Waltair, Srikakulam, Palakonda and Parvathipuram Communities. She was ever obliging to listen to the problems of the people and was very attentive to the priests who needed her services in the Catechetical work. She was a great missionary with a tender heart to the poor and the marginalized. This was very visible in her general services in the communities and also in her Catechetical work.
In 2010, Sister was sent to Srikakulam community. In 2014 she was transferred to Boddepalli Community where she was engaged in looking after the students in the hostel. Her interest in the herbal medicine was remarkable and was helpful in remedying some ailments, with which she treated and cared for the sisters, hostellers as well as the villagers.
In 2015, she was transferred to St. Joseph's Home where she continued her missionary work by visiting the inmates and patients in St. Joseph's hospital.
Whatever be the daily situation or schedule, Sr. Vijaya Anne was faithful to her time of personal and community prayer. Sisters and people had a lot of good things to say about her wherever she had been. "Her faithfulness to little things was very remarkable. She was an outstanding model for devotion to St. Joseph and in practising the special virtue of Obedience.
Sister had started her annual retreat on 8th November but due to her ill health she was admitted in St. Joseph's Hospital Maryland. From 14th November onwards Sister was not feeling too well and her health was deteriorating. On 19th November Thursday morning at 10.45 am, quietly and serenely she went to Jesus the King of heaven for her eternal reward, for whom she dedicated her life in the service of humanity. May Christ the King grant her eternal rest and beatific vision.
May the soul of Sr. Vijaya Anne rest in peace.
Sisters of St. Joseph of Annecy
Visakhapatnam Province