CELEBRATING OUR COMMON HOME (JUBILEE OF THE EARTH)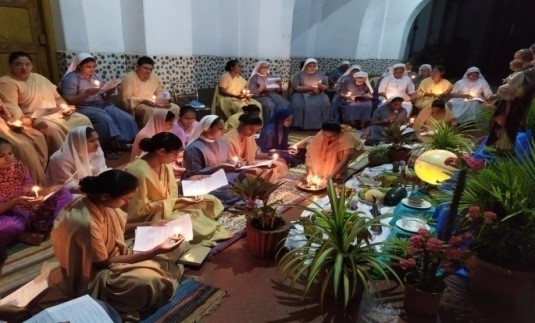 The celebration of the Season of creation started from 1 September (Day of Prayer for the Care of Creation) until 4 October (Feast day of St. Francis). This year was a special year to celebrate the Jubilee of Earth. It was an invitation to engage in a month of prayer, symbolic acts, and campaigns to give thanks for creation and renew our human vocation to care for it. We are being called by our mother church to stand up against climate injustice in prophetic ways. The Month of September was mainly dedicated for the Caring for our common home. JPIC teams in our province have developed some resources to inspire all our communities to celebrate the Jubilee of the Earth .On September 1st 2020 the whole province had started the month with Prayer on creation and thanked the Lord for the gift of creation and reflected upon how each of us could become protectors of creation, of God's plan, of one another and of the environment.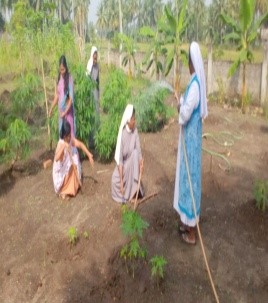 · Each of our communities prepared bulletin boards in communities and in the Institutions with thought provoking quotations on our common home.
Every weekend the communities joined the group called ICN-Laudato Si –TC Unnathi ( Inter Congregational Net Work in A.P & Telangana) to know more about how we could draft concrete action plans to implement and to promote activities in our missions and institutions by involving larger groups of students, parents, villagers and authorities.
Seminars were conducted for the whole province on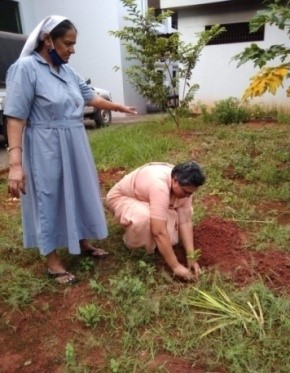 Laudato Si.
Kitchen Gardens, Renewable energies, Organic manure, Vermin compost etc were prepared.

The Sisters in the province focused on to reflect and make efforts to incorporate the spirit of Laudato Si into the liturgy, social work, apostolic outreach and into our daily personal activities.
In collaboration with the NGO called DHARANI, the JPIC team conducted an awareness programme on Nutrition Gardens, Waste to Wealth and on Recycling.
The communities were encouraged to use organic products for house cleaning and for personal use.
The college and the schools made concrete plans to ban plastic in the campus and Sisters were reminded to use only cloth bags for shopping and not to use any plastic bags that cannot be recycled.
Our formation houses and communities had participated in the inter congregational Gardening competitions.
The Sisters expressed the desire to live our day-to-day actions more environment-friendly so that we not only help the environment, but also benefit mentally, physically and financially.
Many of students in our institutions joined to prepare seed balls and spread them in the vacant lands of the city as well in the rural areas through which Social forestry could be developed and the increase of vegetation could take place.
The enthusiastic students from St. Joseph's College for Women went ahead with forming a waste management club.
The JPIC team and many communities have joined with the Global Catholic Climate Movementand tried their best to implement the insights they received from it

The leadership team came up with an idea of planting 100 saplings in industrial locality namely, Parawada Pharma City. On 4th October, Sisters from Waltair and nearby communities travelled to Parawada and planted the saplings. The communities in Visakhapatnam Province celebrated the event in their own respective mission stations by planting fruit trees and ornamental plants.

Sr. Anitha

Visakhapatnam Province