Praise is due to you O God in Zion and to you shall our vows be performed (Ps 65.1)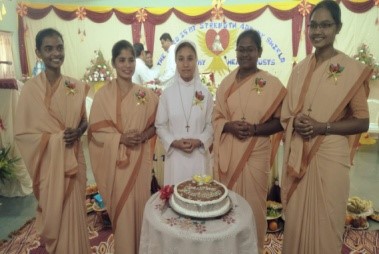 The day dawned showering blessings on each one of us especially on our five Novices as they took their first step towards the fullness of their call. Rev. Fr.K.V.S. Prasad MSFS, was the main celebrant for the Holy Eucharistic celebration and many fathers were present. We were happy to be blessed with the presence of Rev. Sr. Leena the Provincial Superior and all the Sisters, parents, relatives and well-wishers. After the entrance procession we had the lighting of the lamp. Rev. Fr.K V S Prasad in his homily highlighted the importance of taking the three evangelical councils and also focus our goals on Jesus.
During the ceremony our five Novices Punan Singh, Banitha Uthan Singh, Elina Sagma, Vannala Vasantha, and Sunitha Kullu pronounced the evangelical councils of Chastity, Poverty and Obedience as their covenantal relationship with God. After they were given the religious names namely Sr. Punam, Sr. Banita, Sr. Elina, Sr. Vasantha and Sr.Sunita Kullu.
Soon after the Eucharistic celebration the newly professed sisters cut the cake and we wished them with a congratulation song.