The Inauguration of Kitchen Cum Dining Room, Jokalandi, Bhubaneswar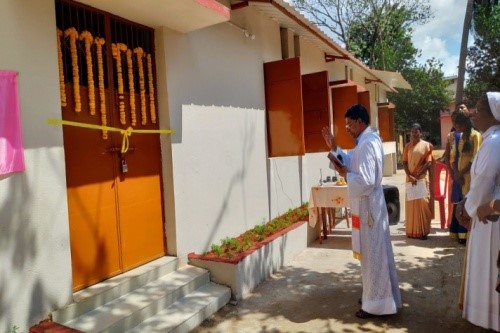 Fani, the cyclone that hit the people of Odisha saw the loss of their lives, houses and livestocks. St. Joseph's SevaSadan Community College, Jokalandi, Bhubaneswar too endured a great loss during the cyclone. The dining room and the kitchen which was made of tin sheet roof blew away in the wind, the girls' toilet was damaged as a huge tree fell on it, and most of the windows of the girls' hostel flew off or broken into pieces. We had no idea how we would restore it. God's ways are different and not always as we expect it to be. BREAD Noida- a funding agency came to our aid to reconstruct the Kitchen Cum Dining Room for the Community College students.
On 17th October 2019 was that auspicious day when we finally had the inauguration and blessing of the new dining room and the kitchen. It was a dream comes true. For 5 months the students had no dining room and had to have their meal in the open space or in the class rooms.
Students and the management were equally excited as the day dawned on which we have decided to have the blessing. We welcomed the guests at the entrance of the Community College by Sr. Jyoshna. Then the gathering moved towards the new building accompanied by the dancers.
Fr. Joseph Kalathil, our parish priest blessed the newly constructed building. Sr. Pauline, the former Superior General cut the ribbon as a sign of inauguration. Miss Anna from BREAD Noida unveiled the plaque. Mr. Prabhudatta Mohanty, the contractor handed over the key of the building to Sr. Linette, the Provincial Superior who opened the door as sign of our entry into the new dining room. We entered the dining room with great joy and blissfulness. The guests were felicitated as Sr. Remya Tomas thanked the benefactors, the Province, the Contractor, the Architect and all whose support and good wishes helped the existence of the community College.