Bhubaneswar Province
St. Joseph's English Medium School, Sankarakhol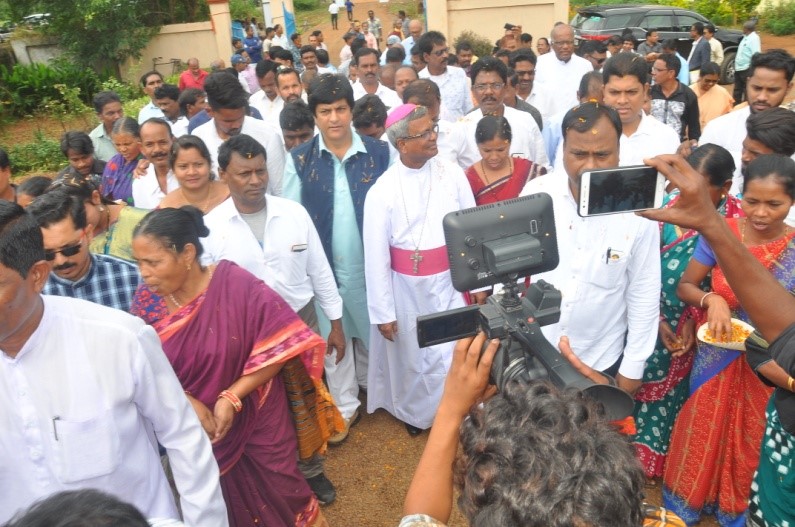 The newly constructed school building was inaugurated on 26th October 2019 by Mr. Munna Khan, Minister of State, Odisha amidst a function held in the school premises and it was
blessed by Most Rev. Archbishop John Barwa SVD of Cuttack Bhubaneswar Diocese.
Government officials, priests, religious and people of Sankarakhol were among the esteemed guests. The programme commenced with a traditional and spectacular welcome by the staff, students and SHG women from and around Sankarakhol. The performance of the kids from various classes from LKG to class IV was a treat to the eyes of the viewers. The school acknowledged the benign presence of the esteemed guests during a felicitation ceremony.
The bust of the Founder Fr. Jean Pierre Medaille is placed on the one side of the portico of this school; on the other side we have the statue of our patron saint St. Joseph. After the blessing and unveiling of these, Provincial Sr. Linette officially announced that 'the St. Joseph's English Medium School at Sankarakhol is placed under the protection and care of our Patron St. Joseph and founder Fr. Jean Pierre Medaille and it was dedicated to the people of Sankarakhol.
The newly constructed two storied school building has spacious class rooms for Play School to class X with allotment of rooms for good Library, computer lab, science lab, Maths lab, wash rooms, drinking water facilities, solar and lavatories.
The school aims to provide a holistic education for transformation. A school with such an infrastructure and facilities for the all-round development of the children was a dream of the people of Sankarakhol and it has come to its realisation with the cooperative venture of the Sisters of St. Joseph of Annecy, Bhubaneswar Province, Archdiocese of Cuttack- Bhubaneswar and Fr. Richard Vaz SVD. The mile stone for this construction was laid in 2017, in the month of December. The completion of this building is a positive commencement to various ongoing programmes and development of Kandhamal District itself.
The school has at present one hundred students from Play School to Class IV. The parents and the public are now co-operative with the sisters here and are recognising our contribution to the society. 26th October 2019 can truly be described as a "dream come true". This dream of dedicating newly built St. Joseph's English Medium School, to the people of Kandhamal has come about to its fullest finale after many years of diligent, determined, hard work of many.
The Sisters of Bhubaneswar Province have taken up the challenge to provide improved learning environment with value based education and competency to their children to face the fast changing demands of the society. This citadel of education radiates light and hope to the people of Kandhamal.