The Year of St Joseph
Srs. Anne and Tessy (Samoëns community) share an article they wrote for their parish newsletter.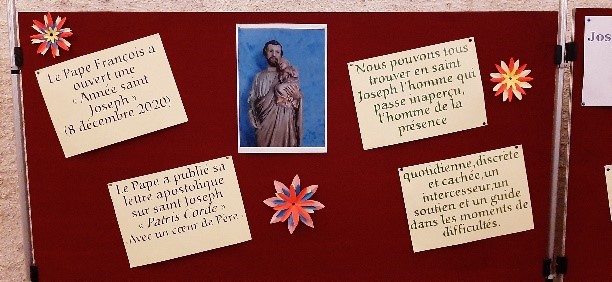 Pope Francis has inaugurated a year of St Joseph (8 -12-2020 to 8-12-2021). He published his apostolic letter about Saint Joseph, "Patris Corde", "With a Father's Heart", to mark the 150th anniversary of the proclamation of Saint Joseph as patron of the universal Church. This was decreed by Blessed Pope Pius IX on 8th December 1870 at a critical time in the Catholic world. We see a similarity with our own time and the worldwide pandemic.
We Sisters of St Joseph of Annecy joyfully welcome this year consecrated to our patron St Joseph! As we reflect, we discover the qualities that St Joseph displayed in his family life with Jesus and Mary. It is a great pleasure to share with you his commitment and his chief attributes.
Like many Christians, Joseph was a layman, a carpenter of his time, but God central to his interior life.
Listening to the Word: Joseph was a man of the strictest observance, not of the law, nor of rules, but of the WORD: observance with no limits. He listened attentively and with perseverance and tenacity to the voice of his Lord. He obeyed the Word with all his might and all the understanding of his heart, and he encountered the Desire of God. A man of faith, here he is making his way , through the power of Another, a lamp for his footsteps (cf Ps 118,105) and he kept his Word.
Availability: With a calm heart Joseph welcomed the unexpected and the incomprehensible. In this way, he teaches us that having faith in God involves accepting that God can work through our fears, our fragility and our weaknesses.
Hope: Did Joseph ever prove his hope more convincingly than when he accepted the mission of taking care of Jesus and Mary? Hope is at the root of his confidence and his serenity. He displays it constantly, always acting with simplicity because he trusts in God. He knows that God is watching over the child, such a precious gift.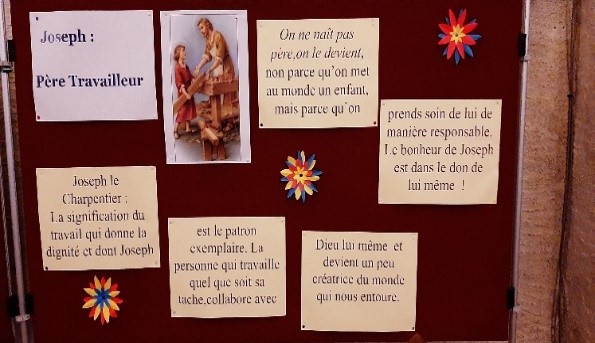 Patience: Joseph is our model for uncomplaining fortitude. Systematically, he takes on all the sorrows and anxieties without passing them on to Mary and Jesus.
Tenderness: Jesus saw in Joseph the tenderness of God. Tenderness is the best way to touch what is fragile in us. The tenderness of God saves us and that is why it is important to encounter the mercy of God, especially in the sacrament of reconciliation.
Fidelity: Joseph is sent off on an adventure that has many surprises in store for him. He is a man who leaves behind his certainties, his habits, his comfort, his country. And all this to be faithful to Mary and their relationship.
Worker: For Saint Joseph, work is an expression of love. Of all the virtues he will teach Jesus, professionalism is one of the most important. Joseph sanctifies work by showing that its worth is not measured by the money it brings but by the love that is put into it. While working he does not look for an opportunity to assert himself, but he thinks of Jesus and Mary. In the Church of Samoëns there is a stained-glass window representing Joseph in his workshop in the presence of the child Jesus and Mary; it reveals Joseph's active presence in the education of his son.
We are going through a time marked by the crisis of the pandemic, the fragility to which we are exposed as well as various forms of poverty. Let us let Saint Joseph, a man of hope and trust in God, accompany us.
"Saint Joseph, we consecrate the weariness and joys of each day to you;
We dedicate the expectations and the hopes of the world to you;
We consecrate our thoughts, desires and works to you;
May all be accomplished in the name of the Lord Jesus.
With renewed confidence, we place today
our whole world under your benevolent and wise gaze".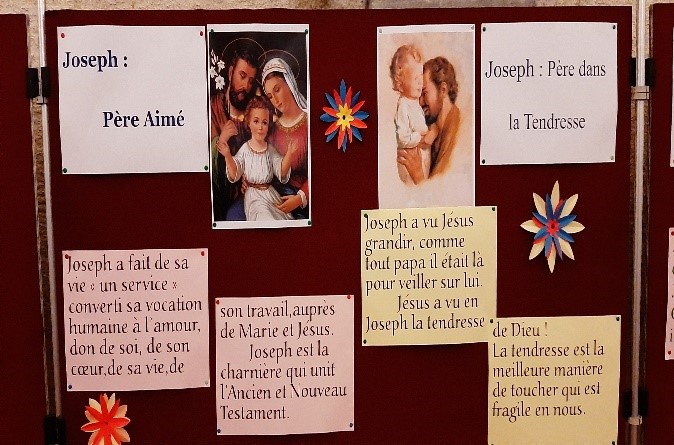 Sr Anne et Sr Tessy