Easter Vigil 3rd April 2021 in Thônes
This year - although it was brought forward to 4.30 p.m. because of the COVID - the Paschal Vigil was a great moment of Prayer, Joy, and Celebration enhanced by the light, the songs and marvellous decor.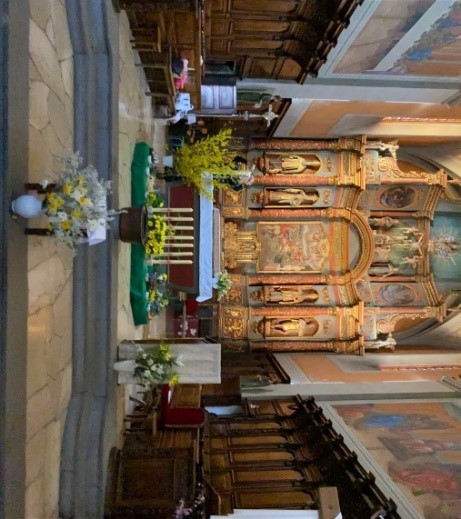 Flowers: 3,000 daffodils picked on the slopes of Manigod and lovingly made into small bouquets to be distributed at the end of the Vigil.
Large vases of forsythia, bursting with their luminous colour.
A garden gate - made by Jean - and left open: symbol of the empty tomb.
7 Easter candles lit in front of the altar to be given to each of the seven communities of the parish at the end of the Eucharist.
And here and there baskets filled with little Easter eggs!
Before entering the sanctuary, Father Dominique announced the 3 themes of the celebration: Fire,Water,Bread and Wine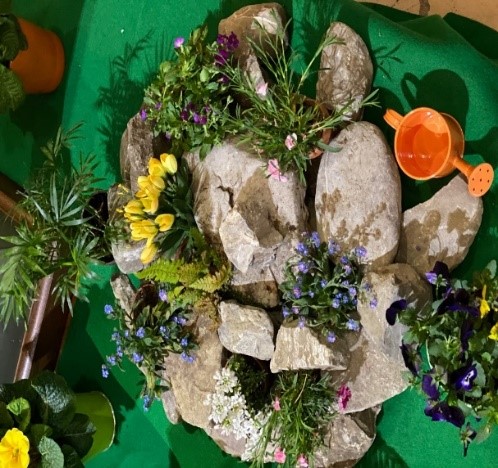 Fire: brought by a person from the back of the church and put in the vat in front of the altar from where a beautiful flame emerged throughout the Mass. With this fire, Father lights the Paschal Candle, symbol of the light of the Risen Christ. The light is transmitted throughout the church with the swaying of the flame during the singing.
Water: the water is brought by two young people including Romain who will be baptized the next day in La Clusaz with his brother who is at work today. Father Dominique blesses this water, a reminder of baptism and life. We relight our candles to renew our baptismal promises.
Bread and Wine: Father approaches the altar table to consecrate the Bread and Wine, signs and symbols of the Risen Christ.
Before giving the final blessing, Father Dominic calls all the children up to the altar. Smiles and a short chat with them before he takes the basket and gives each one a beautiful Easter egg.
Applause from the assembly
At the end of the Eucharist, each one leaves with a small bouquet of daffodils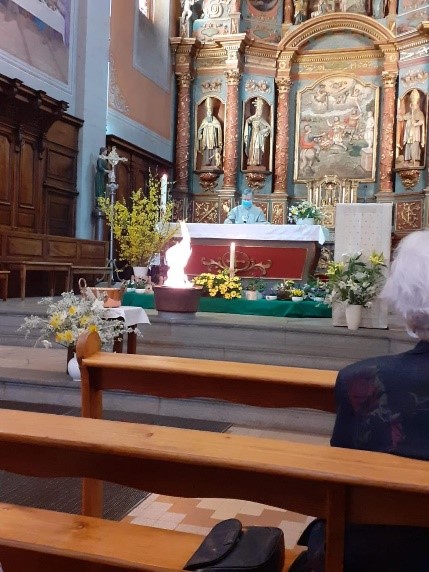 Joy of the shared celebration
Yes, Christ is truly risen
Alleluia! Alleluia! Alleluia!