Lockdown - Summer 2020
In June, following the second lockdown restrictions we in our community decided to share our reflections and experiences of the first one. The following is a summary of our sharing.
How fruitful has this period been for us?
We enjoyed having more time to pray, sleep, read and live in greater silence both inside and outside our community. There was no longer the background noise of traffic accompanying our lives throughout the days, only the harmonious singing of the birds that we had almost taken for granted. Sisters who had outdoor activities felt less stressed and more peaceful. Others enjoyed the calm inside the house. We all had the joy of reconnecting with nature so beautiful at that time of Spring with new life emerging in the garden. We renewed our awareness of the importance of mother earth in the balance of our otherwise busy lives. With extra time available to us we began to sort out and reduce the items in our personal cupboards ad shelves and those held in common too.
It seemed to us that we were more present to what we were doing and that we had more peaceful and fraternal relations among us in community. Some of us experienced this period of lockdown as a kind of retreat. Each evening our Eucharistic Adoration gathered us in silent prayer for all those facing the dangers and illness of the pandemic. We had fruitful celebrations of the Word in relation to the Eucharist liturgy of the day.
We tried to maintain contact with sisters, family and friends by phone and other media links with lonely or troubled people who requested our support and prayers. The beautiful Celebrations on TV/KTO, our Christian television, were enriching and renewed us spiritually as we joined in the rich liturgy of this media. They helped us to renew our faith and trust in God in the awful virus situation we were living in. In this new way we discovered God present and at work in the simplicity of our ordinary lives overshadowed by the pandemic. We discovered the beauty and variety of the Church liturgy in so many other places different from our own.
We were invited to reach out in new ways to those who suffered greatly from lockdown, especially the poorest families living in small apartments with no garden to ease their restrictions. Social media revealed the suffering of these people confined between four walls all day. This cohabitation situation became a source of conflict and violence for vulnerable families as well as for caregivers and the many people affected by the disease. For us it was an opportunity to learn about the developments in the "world of health". We also became more aware of the universal impact of this evil virus calling us to join with the universal prayer and global solidarity that linked us together as a global family. We were no longer isolated individuals as the implications of this pandemic impacted on the sisters close to me and around the world. We have been touched by the communication and support of several people asking us for our news over the phone.
As our annual Delegation Retreat had been cancelled, the preacher sent his talks on the Eucharist entitled what "if our whole lives became Eucharistic". We chose to keep silence during this period. Each one of us had our own copy of the talks so was able to live this retreat time at her own pace. We really felt supported by each other in true recollection and prayer. At this time when we were deprived of our daily Eucharistic celebration we were invited to recognize Jesus present in our midst, in our dear neighbour, especially the poor ones of our world. In a strange way it was truly a time of grace in spite of the disturbing covid virus.
What was difficult to live with?
We were shocked and anxious about the number of deaths given each day on TV news. Daily updates were almost entirely devoted to the pandemic we sometimes experienced as demoralizing. It was important but difficult for us to step back and remain critical and calm. We sometimes had to make the choice not to look at the TV news.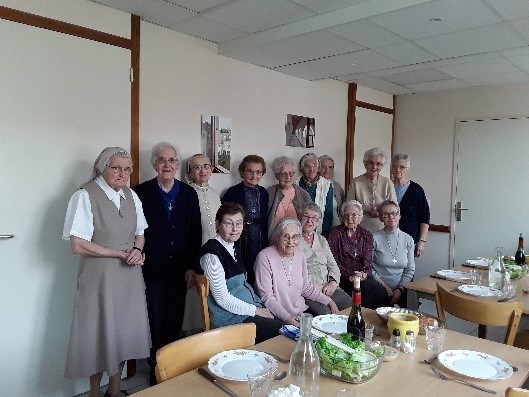 In community, as a precaution and given the small size of our dining room, we split into two groups for lunch and dinner. Some sisters felt this increased their sense of isolation as it reduced our normal meeting up and sharing with each other each day. Even though we were renewed by the Masses on TV, we felt the physical deprivation of the sharing of the Eucharist and of all parish life as well as the sacraments.
Our lack of freedom to go out into the city and visit as we always did weighed heavily on some sisters. We were not able to visit our Sisters living in Vieugy for several months.
So what is God calling us to through this pandemic?
In the light of our shared life, we have identified the above few points for our community life at this particular time.
v The second lockdown which we are still experiencing is more difficult to live. However, we are now living fully this special time of Advent, when we journey towards the Christmas Light and Jesus encourages us by his words "I am with you every day ". So we are called to place all our trust in the One who will never abandon us.
May you all have a Blessed Christmas. And may the New Year 2021 be a healthy one with our hearts full of Hope, peace and love.