New Birth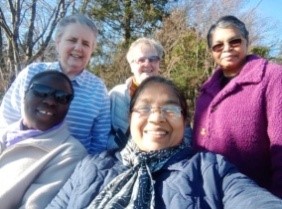 The year 2020 was placed into the hands of Fr. Medaille our dear Founder, as our saint protector and on December 30th 2019 we celebratedthe 350th anniversary of his death. To mark this event, it was suggested by Sr. Breda that each community throughout the Congregation would plant a tree. We know that many of you in the different Entities have already done this. We, in the Generalate celebrated this occasion by planting a fruit tree in our garden, near the Generalate.
The year 2020 was also the 5thanniversary of "Laudato si" and we celebrated the 'Jubilee for the Earth in many ways. For the past several years we have been made aware of ecological degradation but only a few mystics were convinced about Eco-Spirituality and made it their way of life. With the Season of Creation, which was from 1st September to 4th October 2020 many people around the world have been awakened and became more conscious of ecological degradation and the need to protect our Common Home, the earth.
Advent is a time of waiting in hope. We need to alter the trajectory of catastrophic climate change. Let us make bold decisions in our life style to save the planet during this advent of deep crisis! Let us involve our neighbourhood and Associates in our efforts to help us do this!
Sr. Vianney