THE INDIAN SISTERS MEETING IN LYON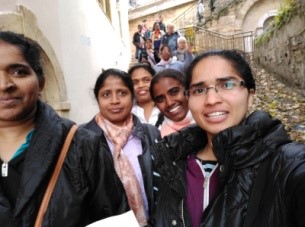 We, the Indian Sisters of Lyon, Annecy and Chambéry "missioned" in France, were offered a program together on the theme: "Being an Agent of Human and Ecological Change".
As the saying goes: "Far from the eyes, close to the heart", we felt close to each other despite our physical distances. We keep connected through the prayer site, using the password of St. Joseph. We were delighted to receive an invitation from the Provincial Council to meet together for a full program of prayer, sharing and a walk/pilgrimage for three days in Fourvière, at the Don Bosco Centre.
After our initial meeting of greetings and sharing a meal with each other we went to the Antiquaille Museum. It's fantastic! Over a short period of time, we have been able to go through centuries of history. In fact, we were amazed to learn about the first entry of Christianity and its growth in Lyon. We also admired the simple faith of the martyrs and saints of Lyon: St. Allenian, St. Pothin and Ste Blandine. For example, we were touched by the words of St. Blandine: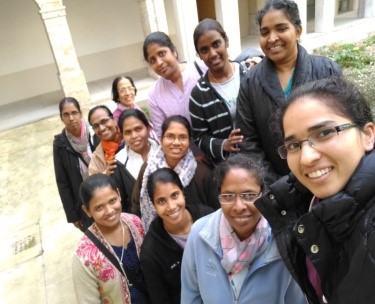 "I am a Christian, and there is nothing wrong in that " Their courage in suffering and their determination to witness to and promote their Christian faith inspired us and reaffirmed us in our own Christian identity.When we arrived at the host community at the beginning of the evening, we were moved by the warm welcome of the provincial and her council members. It was really nice that they shared their precious time with us. It was a joyful gathering, affectionate and a most rewarding time spent together.We also had the privilege of visiting the "Mother Saint-Jean Fontbonne's room and the cemetery where she is buried. Again, we were deeply moved by the experience of entering such a sacred place for us Srs of St. Joseph. The explanation given by Sr Ignatius ignited our hearts with renewed fervor and reassured us that we are her "daughters" and that we must keep her spirit alive in our mission in today's world.It was great to visit Lyon, which is one of the historic places for us Sisters of St Joseph. By using different means of transport for our walk/pilgrimage journey we were able to admire a great variety of landscapes.
We were delighted to visit Sr. Catherine and her council and thanked them for their warm welcome. At the end of the day we enjoyed a delicious Indian meal prepared by the Sisters of Lyon. We also enjoyed the presence of Sisters Lilly and Ditty, which further increased our joy. At the end of the day, we entered into a silence with God and thanksgiving for the whole experience.The second day began with morning prayer and mass during which we were called to reflect on the quality of the time we spend in prayer. Before choosing the twelve disciples, Jesus "spent the whole night praying" to his Father. We were invited to become aware of the priority we give to our prayer through this following question:
Do I start my day and any activity with God?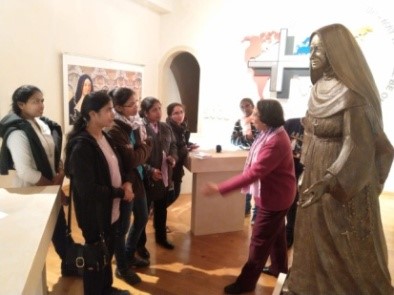 By doing everything for God, do we do everything with God?
We were enriched by Sr Rita Bujold's session on 'Agent of Change in Human and Ecological Relations'. A simple exercise in writing our name with both hands was a mirror. It seems that the ability to write with an unaccustomed hand shows our flexibility to change, and we were surprised to discover our own capacity for change. While emphasizing that "every change must begin with oneself", was presented to us with a perspective of change that has changed from the time of Jesus to this day.
Fr. Pedro Aruppe's prayer "Fall in Love" inspired us all, and she also suggested some tips to help fight climate change by changing our attitudes, habits and ourselves. Above all, sharing of Sr. Rita's personal experience taught us to be patient in the process of transformation.
We were delighted to visit the community of Francheville. We shared our joy and happiness with our Sisters by a few Indian dances. It was a joy for when the Sisters danced with us. This is how we noticed their active spirit and simplicity.
We also thanked the Sisters for their warm welcome, the delicious pie and also for the conviviality of that evening which brought us more joy. Another big thank you!
On the third day was the most important part where we shared our mission experience in France. There was a unanimous sense of progress in our communication skills which we exhibited in the various activities such as pastoral ministry, youth animation, teaching English to children and by doing and learning community activities. We do understand that it is difficult for the moment to get concretely involved in the ministry we wish to. However, the search for a ministry made us understand that:
The presence is much more important than our service.
We must seek to be witnesses to Christ's values rather than transformers.
At the end of the sharing, each group presented a brief entertainment on the role of an agent of change which was very spontaneous and unique. Finally, we were pleased to have the visit of Sr. Marie Claire and Sr Marie Ange, who brought a surplus of grace through their message of faith and hope. We also thank the three councils for what we experienced these days. Let's keep weaving. Yes, let us continue to build faith as an agent of change.
Pratha, Sujatha, Anila