Meeting at Chambery: August 30 to September 2, 2018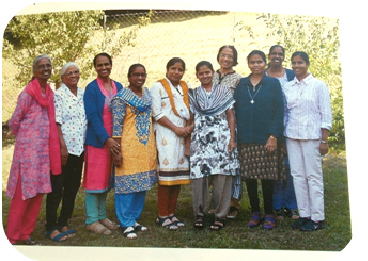 We ten Indian sisters, LAC, daughters of Fr. Medaille attended a meeting with the sisters in Chambery. We were met at the convent entrance, with shouts of joy and made welcome to the community, in Bellecombette, of our sisters of Chambery. This gathering had been organized to allow us to reflect on our mission in France. We discussed and shared our different situations as we listened and supported each other in telling our stories. We felt an atmosphere of family unity which enabled us to trust and openly share our thoughts, ideas and missionary experiences. This sharing was very rewarding and encouraging. The three days were rich in group sharing, guided prayer, discussions, cultural programs, and evaluations. Sr. Jona greatly supported us throughout these three days.
From the morning of the first day, the rich input of Sr. Marie Pierre Ruche on the history of the French Federation gave us renewed energy. In a very simple way, from her own experience, she told us our common foundation story that it challenged us to become the seed that has been planted today. She inspired us to take on the responsibility for today as we now continue the work begun so long ago. We too must now bear fruit so that it produces 30, 60 or 100-fold.
We visited our SJC museum of memories under the guidance of Sr Agnes Moussière. This truly excited us and gave us the desire to follow our early sisters 'example and so adapt our lives to become today missionaries in France. We were also full of admiration for our pioneer sisters who were led by the Spirit to go out to different countries to experience of Fr. Yann Vagneux in India. His sharing was an inspiration to us all to share our charism of love and service. We also had the privilege of listening to the missionaries.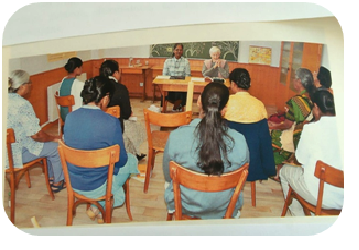 The cultural afternoon was spent at the 'Clos St Joseph" where our elderly sisters reside. It was a joy to spend time with them. Our group was very keen and attentive to listen to these older sisters' sharing. We felt abundantly blessed to have this opportunity to meet them for the first time.
Each of us had sufficient time to share our learning experiences and how the meeting had motivated us by the challenges, surprises and even some shocks, too, along the way! Our sincere thanks go to Sr Jona, Sr. Marie Claire, Sr Marie Louise and their advisors for the initiative taken to organize this LAC meeting for us Indian missionary sisters in France. We appreciated their availability and their commitment to our mission in France.
The joyful learning of our meeting continues to influence us in our daily lives.
Sr Tessy, Sr Anna and Sr Anila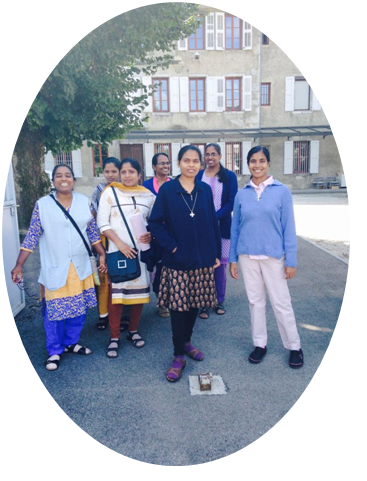 .
News from the English Province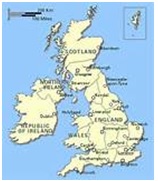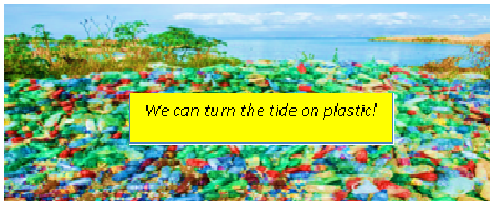 « An authentic humanity seems to dwell in the midst of our technological culture, …like a mist seeping gently beneath a closed door."(Laudato Si, 112)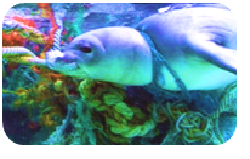 Before Blue Planet 2 and Sky Ocean Rescue we did not give plastics much thought. This indifference reached the pinnacle of human insanity when we examined our love affair with bottled water. Despite the growing awareness of the global environmental plastics catastrophe we have created a trend for consuming vast amounts of an expensive product we don't need and then throwing away the container.
In the U. K. in 2017, we spent over £3 billion on 4000 million litres of water. Most of us go out clutching a bottle of water to protect ourselves against immanent dehydration! We continue to do this despite a host of warnings about our impact on the Planet and our health.
New research has confirmed that our bodies are becoming polluted with plastic. We are eating, drinking and inhaling micro plastic particles, some of which are derived from plastic bottles.
Why does this madness persist?
In 1863, the French spotted the potential of selling H20 as a natural "miracle" in a green glass

bottle, at big prices. Perrier was the drink to be seen sipping! Perrier is best known for its naturally occurring carbonation and distinctive green bottle. Since then, we've witnessed a liquid gold-rush! This miracle product initially marketed as boost to health, has through its association with plastic become a health hazard.
Over the last two decades bottled water has become the fastest-growing drinks market on the Planet. The global market is expected to reach £215 billion in 2020!
Here, in the U.K. we use 39 million plastic bottles every day. More than 15 million of these bottles are either burned, dumped in landfill or thrown on our streets and beaches eventually to end up in the human food chain through contaminating marine life. Ocean plastic is detrimental to marine life, yet if we replace plastic packaging with cardboard and paper this will have an impact on natural forests to supply the extra wood fiber we would need, with huge CO2 emissions, wildlife and habitat loss.
An analysis of some of the world's most popular bottled brands revealed that over 90% contained harmful micro plastic particles, and over 90% of teenagers now have gender-bending chemicals in their bodies. We still have a long way to go before we kick this expensive, pointless and lethal habit.
It takes 450 years for a plastic bottle to degrade in landfill.
10 million barrels of oil are used each year to make water bottles in the U.K. 700,000 plastic bottles end up on our streets as litter every day. We dump 15 million bottles after just one use daily.
No more plastic is an unattainable ambition, at least for now, because to attain this we need to transition to a zero-waste society!
The Ellen MacArthur foundation, launched by yachtswoman Ellen MacArthur, says: "We know cleaning up plastics is vital but this does not stop the tide of plastic entering the oceans each year, we need to move upstream to the source of the flow."
Her work has attracted 250 Organizations to sign up to end plastic waste at source. This initiative is backed by our Government, the UN, WWF, Universities, Financial Institutions and other campaign Groups.
We are on our way to turning the tide on plastic !
Sr Henrietta October 2018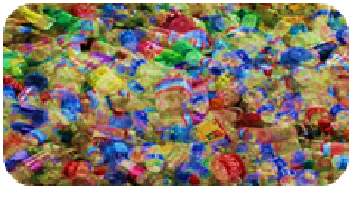 My 25 years of Religious Life
"My heart exults in the Lord, I rejoice in the goodness of the Lord,
O lord my God may
I thank you forever and ever" Ps 29
May drums, koras and balafons assist me to sing to God, with you, in gratitude.
On this joyful occasion how can I not thank the Lord for my vocation story? It started with my catechetical journey of Faith in Jesus Christ. I was in awe of my catechist, Michel Bangar so full of zeal in the Lord's service. Looking at him, I thought that all the catechists must be perfect, they were so good. They had good homes where peace and joy reigned. This made me think: that when I grow up, I'll marry a catechist.
One day, Sr Ailbe, who supported the catechesis groups, through regular visits, arrived in our village. Our Catechist Michel took this opportunity to tell us all about her. He said she had given her life to God, that she had left her country to devote herself totally to God and others. This life of service and total self-giving to God seemed to me even more perfect than that of our catechists, so, I told my catechist I wanted to be like this Sister Ailbe!
After years of been accompanied by the Sisters of Saint Joseph, and then my initiation and formation into their way of life I am now celebrating my 25 years of religious life as a sister of St. Joseph. I discovered little by little the meaning of this life totally given to God and to others. My great desire came true on October 3rd, 1992, the date of my first profession. I have always been struck by the welcome and acceptance of the sisters in my regard. My difference of skin, and culture, has never been a blockage. On the contrary, I felt loved and accepted. This unity had its source in the love we have for each other and in our prayer life together.
My older sisters had a keen sense of the needs of the other. They loved all the people they met. I saw them visiting families in spite of the heat, fatigue, or the difficulty of communication related to so many ethnic languages. They were women of great faith and tireless in their missionary zeal. Seeing them live in this way made my desire to be like them increase more and more.
One day when I happened to sleep in Sr Fidelis' room in her absence; I sat on her bed and prayed that some of her life of holiness might live in me too. In my 25 years of religious life, I learned that everyone is important no matter who they are. Over the years my different apostolates have led me to take care of the poor, the sick and the suffering. I learned a lot from them, humanly and spiritually. I wish to express a deep gratitude to my older sisters, the living as well as those who have preceded us to God, and who loved me, supported and helped me grow in my religious life as a sister of St Joseph.
I also want to say a big thank you to my companions on this journey: Bernadette, Marguerite and Marie Agnes. May the Lord bless their homes and keep them in peace and happiness.
A warm thank you to Fr. Jean Marie of Keur Moussa, my spiritual father and Sr Sainte Blandine, who helped me with the grace of God, to be who I am today.
A big thank you to the priests who accompanied me, listened, advised, and encouraged, me in confession.
I also thank all the people I have met who helped me and encouraged in one way or another. A special thanks to my aunt Madeleine who raised me, gave me a good education and has always supported me in my vocation, treating me as her own daughter. May the Lord abundantly bless her and her whole family.
Finally my thanks to my companions of our group of 1992, and who are present here today to share my joy. Yes, the Lord has done great things for us.
Thank you, Sr Donisia, as you commit your life totally to following Christ through your final profession today. To our older sister Raymond who has advanced 50 years along the path of the gift of self in loving service, and for my 25 years too. "Do not be afraid the Lord is with us and upholds us on the journey of life."
I'm so happy to be your sister! I invite us all to rekindle the flame that has been passed on to us by our older sisters. We need only to recall the memory of our SSJA ancestors of this mission Sr Odile, Sr Mary of Salette, Sr. Thérèse Vittoz, Sr. Marie Irene and many others. To pass it on our history to future generations to remember. We have to build a new generation for new times in the church and the world (cf. Vita Consecrata, no. 110). So, let us get to work with zeal and enthusiasm.
May God bless us. May he bless our Region and our Congregation. Peace and blessings be upon us all here present.
Sœur Germaine Boubane

Sr Raymonde's Message of Gratitude.
What a day to celebrate my Jubilee, the day when sister Donisia makes her perpetual vows!
Her final profession sits well with the continuity of the faithfulness of God who works wonders in us every day. God sent his son, Jesus Christ, to reveal to us the immensity of his love, his kindness, his tenderness, his infinite mercy and to tell us that he is our father. Jesus Christ came to take our human condition to save us from sin and enable us to become, with him, sons and daughters of God, through his death and resurrection. What a great reason to give thanks and praise to God our father in Jesus Christ and the Holy Spirit for such a gift!
My gratitude also goes to my parents, who gave me life and helped me to grow up with my brothers and sisters, humanly and in the path of faith to which parish life contributed so much. This way of life enabled me to respond with joy to the different calls of God to follow the path he chose for me.
I thank my religious family who recognized and believed in my vocation, even for the call to serve on mission. My sisters accepted me, despite all my limitations, and challenged me every day, to go beyond my weaknesses and through their acceptance to communicate this overflowing love and joy that God gives me, in Jesus Christ, with to walk with Mary taking me by the hand every day.
Now I want to thank my sisters in the Senegambian Region who have helped me along the path of service, in the simplicity of our daily lives with Jesus, Mary, and Joseph. Along the way of life, we live the joy of pardon given or received to build together our lives in community.
Thank you also to you all the lay people, with whom we have worked together for the proclamation of the Good News. Praise be to God! Together we thank the Lord for all we have shared, our joys, gestures, words and actions which enabled us to enlighten and support one another other each day.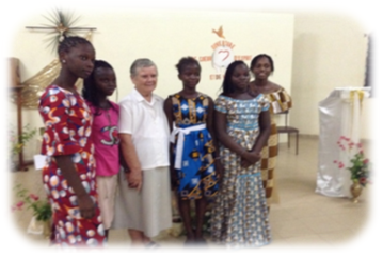 Thank you to all those who could not be with us, but are united with us in thanksgiving as well as those who participated in the preparation of our celebration. May our Lord Jesus Christ, continue to draw us all to go further on the path of love, a path that calls us to empty ourselves of selfishness and so available for service, according to the needs of our dear neighbour. This path goes through the cross, but is still a way of Thanksgiving, Joy and Peace because God walks with us in Jesus Christ... Let us always rely on Jesus, Mary, and Joseph, to lead us ever closer to God who is love.