St. Joseph's Seva Sadan Health Centre, Jokalandi.
St. Joseph Seva Sadan Health Centre, Jokalandi, in collaboration with St. Arnold English Medium School, conducted a free medical health camp for local residents on 16th September 2018 at Jokalandi which is a slum area. Two doctors from the nearby super specialty hospitals gave their service freely and whole heartedly for the day. One was a general physician and the other was a pediatrician. Teachers and students from St. Arnold School were very much at the service of everyone throughout the programme, as were with the students of St. Joseph Seva Sadan Community College.
The camp began at 9 am with a warm welcome for the "Dignitaries" who were given bouquets. Our respected chief guest, Mr. Harikrishna Mohandi, the local municipality cooperator and Fr. Richard Vaz, the Manager of St. Arnold School cut the ribbon and formally opened the session and then a lamp was lit by various representatives to invoke God's blessing on the day.
There were about 170 patients who benefited from the camp and all who came for the medical checkup, received essential medicines free of cost. People were very happy and grateful for such a service as most of them cannot easily afford to have a medical checkup. The session came to an end at 2 pm with a lunch for the volunteers and helpers. It was a heart touching experience for all of us - especially for the Sisters of Jokalandi Community - to see such a large number of people availing of the facilities. We are grateful to all who supported this noble mission.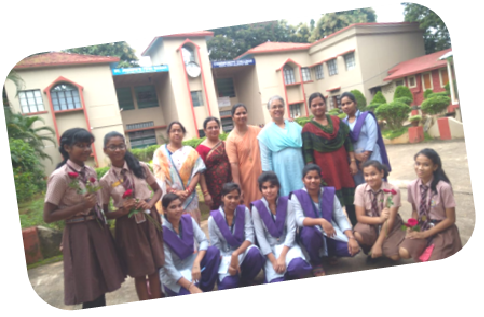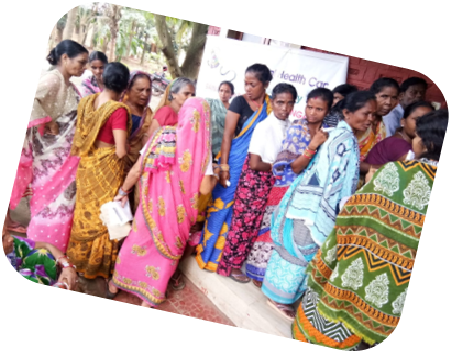 Inter Province Gathering of the Pre-Novices Cuttack 2018
April 9th 2018 was a significant day as the Inter Province gathering of Pre Novices began in the Cuttack Novitiate. The programme lasted 5 days and Sr. Vijay Mary was the resource person who dealt with the topic "The History of our Congregation".
We began with a prayer service conducted by Sr. Subhashree in which Sr. Leena lighted the lamp as the sign of our openness to receive the light of knowledge and to dispel the darkness of ignorance. We welcomed Sr. Sujatha and all the Pre- Novices of Vishakhapatnam Province with an arathi. As the sign of our openness, and with the gesture of welcoming, we invited Sr. Sujatha and the Pre- Novices to add a spoonful of oil to the lamp. It was also the symbol of our unity and togetherness to grow unto the fullness of Christ. Sr. Leena welcomed the gathering and gave an inspiring message on our last General Chapter theme, "ALL IS ONE."
Sr. Vijya Mary shared her knowledge on the History of our Congregation, the life of our Founder Rev. Fr. Jean Pierre Medaille and Mother St. John Fontbonne which stimulated interest and love for the Congregation. Our knowledge was deepened as we came to know how the tiny mustard seed has grown, strengthened, survived and spread its branches all over the world. We were inspired, not only to love our rich heritage, but also to admire it and live it. At the end we had a cultural programme and shared our joy and laughter together. We expressed words of gratitude and love towards Sr. Nirmala Simon and all the Novices who had worked hard to make our stay a comfortable one. On the last day we went for a picnic to Bhubaneswar. We visited the Science Park, Tribal Museum, Khandagiri and Udayagiri and had a delicious lunch in the Provincial house, after which we proceed to Jokalandi community where we visited our elderly sisters and had high tea with them.
All these activities helped us to know and to build close relationships with one another. We sincerely express our sense of gratitude to Sr. Vianney, the Provincial Superior of Visakhapatnam and Sr. Linette, the Provincial Superior of Bhubaneswar, who helped to make this gathering possible and made it a very memorable one.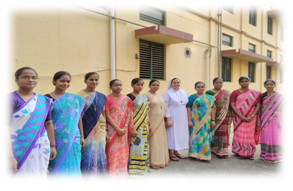 Golden Jubilee of Sr. St. John

Our Founder Fr. Medaille has written 100 maxims for us to live by. The First maxim reads, "Keep the high ideal of your vocation always in mind and never do anything which contradicts your commitment of a life filled with simplicity, gentleness and holiness."
On September 22nd Sr. St. John celebrated the 50 years journey in living the high ideal of her vocation in the Church through the Congregation of the Sisters of St. Joseph of Annecy. The Visakhapatnam Province joined Sr. St. John in thanking God and all who had brought her to this day – especially her late parents and only beloved brother, her dear ones and friends, all the Sisters of St. Joseph of Annecy, especially her Formators and Community members who had helped to live her fifty years of faithfulness and commitment to the Lord.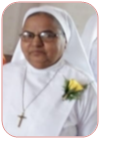 Sr. St. John's life story and missionary journey: Sr. St. John was born on 23rd December, 1946 in Srikakulam. She was the only daughter of Joseph and Mary who were both teachers and she was brought up in a good Christian family where she first learned to love Jesus. She says that her mother was her vocation promoter. She received all her Christian formation from the Sisters of St. Joseph having studied at Palakonda and Sacred Heart High School, Waltair. Intermediate and Degree courses were then taken in St. Joseph's College for Women.
She entered the Novitiate on 31st May, 1966, made her First Profession on 24th July, 1968 and became a permanent member of the Congregation on 17th January, 1974. A glimpse at Sr. St. John's life's journey clearly reveals that she was a born leader, having spent all her time and energy in the Education Ministry of the Congregation as a Headmistress of the following schools: - S. Kota, Kakinada, Parvathipuram, Sacred Heart School, Waltair and Cathedral School, Reading Room. Her leadership acumen was excellent, so much so, that she received State and District level awards and brought laurels to the school. Besides being Headmistress she was also animator of the Community and School Correspondent.
Sr. St. John has a special love for the Congregation; she expresses it by promoting vocations, having encouraged around 20 young women to enter. She is naturally gifted with music and art and is a passionate composer of songs, playlets, dramas and dance dramas. She has a special place in her heart for the poor and the less privileged and her past pupils still love her and keep coming to take advice and blessings from her.
Presently Sister forms part of the Community at Palakonda and is actively involved in the mission - teaching catechism, preparing people for baptism, meeting people and visiting families. Her consolation is that the direct evangelization work she could not do during her younger days- which she so aspired to - she is able to do now.
We appreciate and acknowledge her commitment and dedication for the past fifty beautiful years of religious life. Her deep faith has enabled her to live her 'YES' in a variety of roles which she fulfilled with dedication and responsibility, with zeal and enthusiasm, through both good times and bad. Sister is precious to us and we thank her for her generous service to the family of St. Joseph in different places and to various people in the mission of the Church.
Sisters of St. Joseph of Annecy, Visakhapatnam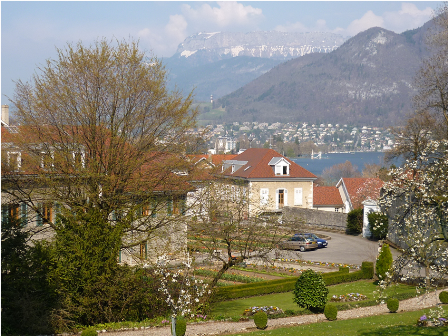 "Our dear Congregation in which each member according to her declared intention, should have the fullness of the Holy Spirit in her heart, professesto be a Congregation of the most pure and perfect love."
Fr Medaille: Letter on "The little Design"
"Through our union with God, and with humility and charity, we try to realise Fr Medaille's desire that (we) should become the means of bringing about the two-fold union of all people among themselves and with God."
Constitutions #4
>>